Main content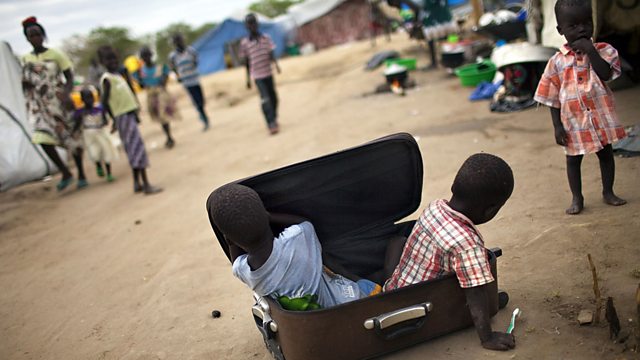 South Sudan Three Years On
South Sudan refugees; who has the best World Cup chant?; Saudi's YouTube king; should vasectomies be banned in Iran? And Wole Soyinka at 80
This week marks three years since the birth of the world's newest country - South Sudan. But it hasn't been a glowing start - it's currently reeling from a civil war that has killed thousands and forced over a million people to flee from their homes. Many of them have fled across the border to Ethiopia. BBC Africa's Hewete Haileselassie, who is from Ethiopia, meets the refugees who've made camp there.
World Cup Chants
Which World Cup country has the best football chant and why, Argentina, Brazil, or Germany? BBC Mundo's Natalio Cosoy, Daniel Gallas from BBC Brasil and Central Asian editor Johannes Dell who's from Germany join us on the Fifth Floor newsroom to battle it out.
Saudi YouTube King
Introducing Saudi's Beatboxer extraordinaire, Alaa Wardi makes music using only his body. He's such a hit in his home country of Saudi Arabia that he's become known as the Saudi You Tube King. Mehrnoush Pourziaiee from BBC Persian went to meet him. Saudi's are the biggest consumers and producers of You Tube videos across the Arab world, making some of the most creative comedy in the region. Abdirahim Saeed reviews what young people are watching in the country.
Birth Control in Iran
The Iranian government is proposing to ban vasectomies and impose more restrictions on other forms of birth control. Iran has a complex history with population growth, veering from encouraging more and more babies to imposing some of the most successful birth control plans of any nation. It's all a bit confusing for young Iranians like Hossein Sharif from BBC Persian, for years he was encouraged to stay away from the opposite sex, but now he's told he should be making babies, lots of them.
Happy Birthday Wole Soyinka
As Wole Soyinka, Nobel poet laureate and giant of African literature celebrates his 80th birthday this weekend, we talk to Bilkisu Labaran from Nigeria to hear about her favourite works by the big man. We also discuss what sort of influence the poet, playwright, author and more recently campaigner has had on the country.
Online Greatest Hits
Digital diva Fifi Haroon gives the low down on the top-hitting stories across the web including, the Indian man with 48 air-conditioners in his bungalow and the North Korean cheer-leading squad.
Photo credit: Getty Images
Last on
Broadcasts