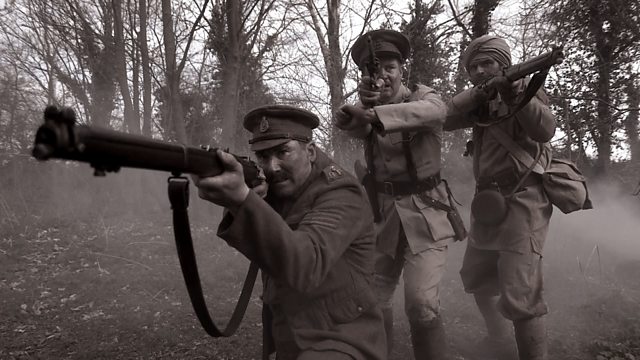 18th July - Doctors commemorates 100 years since the beginning of World War One
Bringing Them Back to Life... a Blog from our Foreign Fields Writer - Jeremy Hylton Davies
'What if..?' That's the question that informs a writer's life. It opens inquiry, raises possibilities, takes you into the decisions and dilemmas of another human being, as their character opens up in the creating of a story. That's also the reason why you see so many police, lawyers and, indeed, doctors in television drama...they can ask questions: 'So for how long..?', 'When did you first notice..?', 'Why then, did you..?' It opens the path for both character and story to develop, become complicated and eventually become resolved.
Maybe.
Character. That's not only a person, it's a collection of attributes. 'Foreign Fields' begins with the character (of a character) being brought into question - Hugh Bellamy, Howard's great-grandfather, damned by a single line in the official history: 'Thought to have fled the battlefield.' That's what begins the story.
Except it doesn't. Yes, in terms of where we begin the episode - Howard cannot believe that his ancestor was a coward and is determined to prove that he wasn't. But, in terms of time, the story begins a century before, with Hugh Bellamy, lost and alone on the battlefield, the enemy closing around him.
We think of war, of battle, in epic terms. The First World War is well-documented as the first mechanised war. But it could be said that war has always been mechanised, conflict being the spawning ground of invention...the crossbow, the cannon, the musket, the repeating rifle...the machine gun. Vietnam was the first television war and what television showed, hastened its end. The first Gulf War...again a war fought without imagining that there would be a successor...was the first satellite war, pictures of pinpoint airstrikes and swift successes, beamed into homes across the world in real time. Except airstrikes aren't always pinpoint. And success has a tendency not to last.
Iraq and Afghanistan have reminded us that wars are epic only in scale...and in losses. A single loss is an epic loss for those that love them. And that loss occurs in a moment, their memory diminishing through the generations, becoming a name among a sea of names.
So, how do we bring them back? How do we re-establish that epic moment of their loss? And what about what happened before that moment? How did they come to be in that place, at that time, what fate and forces brought them there, what were their actions in those hours and moments, what did they do, what did they say?
Hugh Bellamy. What did he say? What did he do?
We find he wasn't alone. Fate and forces conspire to bring him together with two other men, shocked by the ferocity of a counter-attack, struggling, like Hugh, to get back to their lines. 'Foreign Fields' is the story of the few brief but defining hours they spend together, hours that will link them in history. Hours that will define the character of Hugh Bellamy.
So I asked the question...what if three soldiers met on a battlefield, one hundred years ago?
Duration: