Main content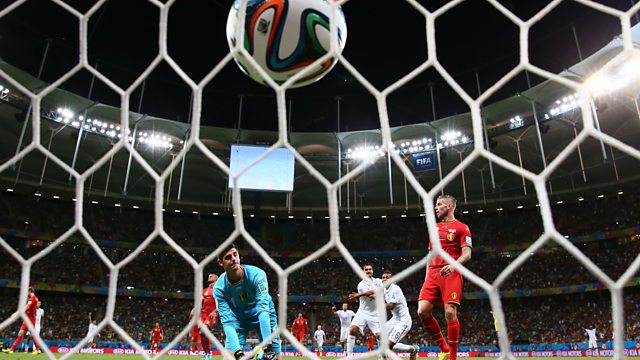 The Art of Football Commentary
The art of football commentary, smuggling gold into India, Brazzaville and Kinshasa tensions, Beirut's bullet-riddled Holiday Inn and Bollywood legend Dilip Kumar
Around the world hundreds of thousands of people will have spent many an hour over the last few weeks shouting at their screens - and sometimes at the players - often at the referee and occasionally at the commentators. But what makes for good commentary and how do styles differ in different parts of the world? We're joined by commentator and sports reporter from BBC Africa Farayi Mungazi, from BBC Brasil Hugo Bachega shares tales of the Brazilian greats and from BBC Persian Hossein Sharif explains how, in Iran, football commentary is inseparable from politics.
Gold Smuggling into India
It seems India's appetite for gold hasn't been dampened by heavy penalties imposed on imports last year. By some accounts it's just made the smuggling routes three times busier. But is it only gold that glitters in Indian eyes? Who is buying the stuff, and where is it coming from? We asked BBC Hindi's Tushar Banerjee to do a little digging on this story with the help of his colleagues: Rama Parajuli in Kathmandu for BBC Nepali, Azzam Ameen in Colombo for BBC Sinhala and Aharar Hossein in Dhaka for BBC Bengali.
The Tale of Two Cities
Brazzaville and Kinshasa are two capitals separated by the mighty Congo river. They could be thought of as sisters, but that relationship has been soured recently and we find out why BBC Africa's Maud Jullien has been struggling to get across the river.
Reflections Through the Bullet Holes
BBC Arabic's Carine Torbey has been thinking about a tower block on the edge of the mediterranean in her home city Beirut. It's the Holiday Inn, once a symbol of glamour and affluence, still a landmark today but symbolising something quite different. Its up for auction, complete with pock marks from the bullets and shells that decorated it ominously during Lebanon's civil war.
Bollywood Legend Dilip Kumar
Dilip Kumar is one of the giants of the Hindi film industry. At the grand age of 91 he is publishing his autobiography looking back at his life in film. In his time he was dubbed 'The tragedy King' for his roles which symbolised misfortune and catastrophe. BBC Hindi's Vandana Vijay and Vaibhav Dewan talk about a legend of Indian cinema.
Online Greatest Hits
Digital diva Fifi Haroon gives the low down on the top-hitting stories across the language service websites including, decorating potholes in Kazakhstan and catching a ride in Castro's ex limos.
Picture: A football goal scored - a ball between the goalposts
Credit: Getty Images
Last on