Main content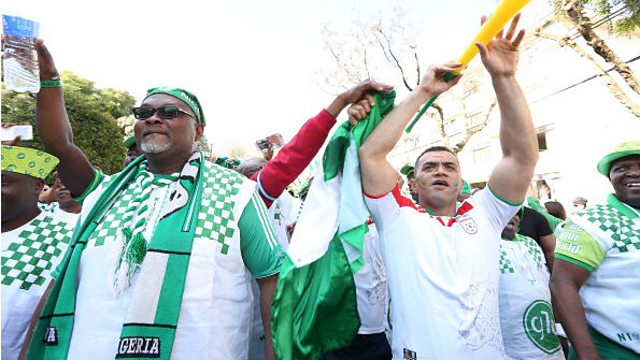 Freedom to Watch
We're watching the World Cup in public with the fans who can't do in their own country
When fans gathered together in Nigeria to watch the World Cup many ended up dead, victims of terrorist attacks. Now public screenings of games in parts of the country have been cancelled. In Iran public broadcasting of matches is banned on religious grounds. So, when the two faced each other earlier this week we watched the game with exiled fans of both nations taking advantage of the freedom to watch the World Cup with friends in public
Martina Navratilova
Ahead of Wimbledon Martina Navratilova has been speaking to Caroline Rigby about her successful battle with cancer as she raises awareness and money in memory of former British number one Elena Baltacha, who died earlier this year.
Konjuh Believe It?
Ana Konjuh is just 16 years old, but the Croatian will play at Wimbledon for the first time after she won through the arduous and less than glamorous qualifying tournament in Roehampton. We join Ana and her family as she makes her dream come true.
Beirut Basketball
Al-Riyadi and Sagesse, two basketball teams not only from opposite sides of Beirut, but traditionally from opposite sides of the political and religious spectrum. It's a fierce rivalry that has got so bad that Lebanon is banned from international tournaments and the domestic championship has been suspended. We investigate how Lebanese basketball is mirroring the country's deep societal divisions
Muffy Davis
Last week the 6th International Working Group on Women and Sport was held in Helsinki, Finland. In its 20th year the organisation's aim is to improve opportunities for women in sport wherever you live and whatever your level of participation, but is it all just talk? We speak to Muffy Davis the American Paralympic cyclist and sit-skier and one of the speakers
Sticky situation
Italian international footballer Mario Ballotelli revealed on social media he had bought a World Cup sticker album and filled the entire Italy page with stickers of himself! All well and good but very frustrating if you still need sticker number 335 and the actual man in the sticker has 15 of them! So "Are football stickers really for children or adults!?"
Sporting Witness… hears from a childhood friend of Andres Escobar, who was with the Colombian defender on the night he was murdered after his own goal in the 1994 World Cup.
Photo: Nigeria and Iran fans arrive for their match against each other at the 2014 FIFA World Cup n Curitiba, Brazil. Credit: Giuliano Gomes/Getty Images