Main content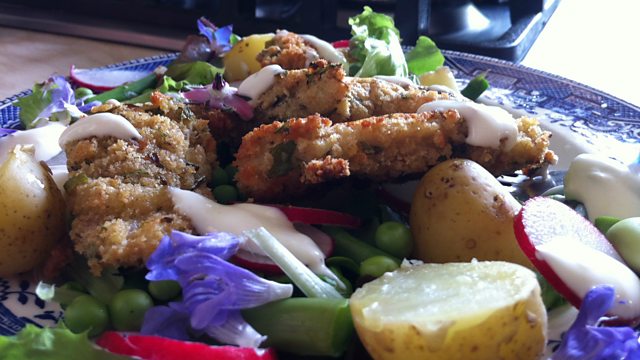 Food Friday
Herby Chicken Goujons with Seasonal Salad and a Ranch Style dressing
Ingredients:
Chicken:
- 1 x 460g pack of Skinless Chicken Thigh Fillets
(6 Thighs will make approximately 20 Goujons)
- 2 slices of stale bread (I used Sourdough)
- A Handful of a selection of fresh herbs;
-Lemon Verbena
-Lemon Thyme
-Sage
-Rosemary
-Oregano
- 1 1/2 spring onion (only green parts)
- Sea Salt and Cracked Black Pepper to season.
- 2-3 eggs whisked
- 3 Tbsp of Plain Flour
- Tbsp of Rapeseed oil or any oil of your choice
Salad:
- Jersey Royal Potatoes or New if you can't get
- Fresh fine British Asparagus (still in season now),Blanched and chopped into inch and a half pieces.
- A selection of Salad Leaves such (I used a "Living Salad") Spinach, Watercress, curly etc would all work fine also.
- A Handful of Fresh Broad Beans
- A handful of fresh Radishes Sliced
- Fresh Peas podded, could always use Frozen if need be
- Edible flowers to decorate:
- Borage
- Sage
- Rosemary
Ranch Style dressing:
- 2 Tbsp of Greek style Natural Yoghurt
- 2 Tbsp of Mayonnaise
- 1 Tbsp of cider Vinegar or White wine vinegar
- 2 Tbsp of Finely grated parmesan cheese
Method:
- Preheat your oven to 180-190c
- Cook your Jersey Royal potatoes for about 15 mins
- Whilst they are cooking away, pop your herbs, bread, Spring Onions and seasoning into a Hand Blender or Processor and Blitz
- Take 3 bowls, Place whisked eggs in 1, Flour in the other and your breadcrumb mixture in the 3rd.
- Slice your chicken thighs into 3-4 pieces per thigh (long strips)
- With one hand place the chicken into the flour, then egg, then Breadcrumbs. Repeat the process and put all onto a plate.
- Heat up a frying Pan with a drizzle of your oil. Fry off the Goujons for a minute or 2 until starting to colour, then turn over and repeat.
- Pop into the Oven on a baking tray for approximately 12 minutes
- Drain off your Potatoes and Blanch your asparagus in boiling hot water for no more than 1 minute.
- Drain and rinse with cold water to stop the cooking process
- Make up your dressing by mixing all ingredients together
- Arrange your salad "rustically" with the added Peas, Broad beans and Radishes. Place the Goujons on top, drizzle with the dressing and decorate with the edible flowers! Done!
Duration:
More clips from Ben Jackson