Main content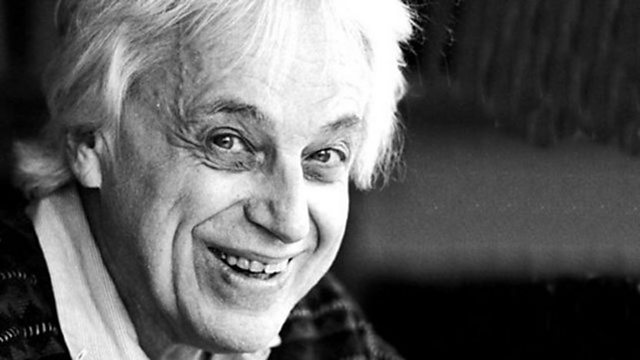 György Ligeti
Donald Macleod and composer George Benjamin explore the music of Ligeti.
Donald Macleod is joined by composer, pianist and teacher George Benjamin, to explore Ligeti's life and music.
He introduces keyboard works, including Continuum for harpsichord, which the composer described as being like 'innumerable thin slices of salami'; Harmonies for organ, for whose first performance Ligeti replaced the organ's regular wind supply with a vacuum cleaner; and his fist Book of Piano Etudes, considered a worthy successor to the Etudes of Chopin.
Donald Macleod then introduces Ligeti's chamber music, including an excerpt from his Second String Quartet, in which the composer says he had tried to write music the way Cezanne painted; his Chamber Concerto, in which all 13 players are soloists; and his Horn Trio, written in 'homage' to Brahms. Asked to quote Brahms in his own work, Ligeti suggested with characteristic humour that he could use the note C.
Donald Macleod and his guest George Benjamin turn to the composer's orchestral music, including Lontano, a study in orchestral colour inspired by the sun streaming through the stained-glass windows of St-Chapelle in Paris; and San Francisco Polyphony, which expresses the composer's affection for the city. Then the composer's dramatic music including excerpts from Ligeti's only opera, Le Grand Macabre, an unusual work which is often in bad taste, yet is described as containing some of the composer's best music.
Finally Donald Macleod introduces vocal and choral music, including two of Ligeti's Nonsense Madrigals - the serene, slowly ebbing Lux Aeterna (one of the works Stanley Kubrick included in the soundtrack to 2001: A Space Odyssey). Plus the Requiem, of which The Times music critic William Mann remarked after its London premiere that its effect was so compelling that he 'would gladly have forgone Beethoven's Ninth symphony after the interval'.
Duration:
Credits
| Role | Contributor |
| --- | --- |
| Composer | György Ligeti |
More clips from Composer of the Week