Main content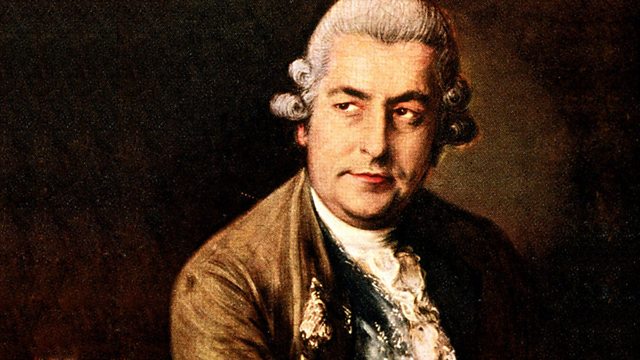 Johann Christian Bach (1735-1782)
Donald Macleod introduces music and stories from the life of J.C.Bach.
Donald Macleod discusses Johann Christian's rejection of a traditional Bach career as a provincial organist in favour of travelling to Italy to concentrate on opera.
He follows Johann Christian to London, where he became the darling of the English, making friends in high places and wowing the public with his operas. Johann Christian made friends with composer Carl Friedrich Abel and painter Thomas Gainsborough. Bach and Abel were housemates and business partners, collaborating on a series of subscription concerts in Soho for 20 years. Gainsborough, famously boozy and passionate about music, was the third side of the triangle, risking their ridicule by performing for them and swapping his paintings for his friends' instruments.
Donald Macleod then dicusses JC Bach's relationship with his most famous pupil - Mozart. In 1764, the Mozarts' tour of Europe took them to London, where, as Royal Music Master, Johann Christian arranged for them to perform for the King and Queen. The relationship between him and the eight-year-old Mozart flourished. The young Wolfgang's chief ambition was that 'my name will be as famous as that of Christian Bach'.
And yet, J.C. Bach, the toast of 18th century London society, music master and friend of Queen Charlotte, musical mentor to Mozart, died, he leaving substantial debts and was buried in an unmarked grave, with only four people present.
Duration:
Credits
| Role | Contributor |
| --- | --- |
| Composer | Johann Christian Bach |
More clips from Composer of the Week