Main content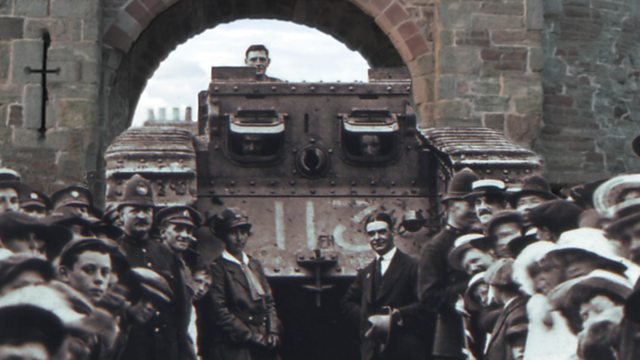 Monnow Bridge, Monmouth: Julian The Record Breaking Tank
Tank Julian parked on Monnow Bridge as a part of the War Savings Campaign in 1918
The day Julian the tank came to Monmouth in July 1918 was a huge occasion, drawing a record number of crowds to the town centre. By the close of day, Monmouth had raised a staggering £54,000 – equivalent in 2014 to nearly £3 million!
People had never seen a real tank before and it proved to be one of the most successful appeals for money to support the British war effort. Seen as a wonder weapon that could shorten the war, the cumbersome and ungainly vehicles became popular icons.
What hadn't been anticipated was the Tanks impact on morale and the home front. By the end of 1916 Britain was war weary, numbed by the millions of dead and mutilated soldiers. Add to that food rationing and conscription; the people of Britain were desperate for a breakthrough.
Although it was intended for land, the irony is that the tank was initially developed by the Royal Navy, with the First Lord of the Admiralty being Winston Churchill. The arrival of the Tank offered something decisive, momentous and at the beginning, uniquely British. With the Royal Navy's involvement, it was also a way of Britannia projecting her naval superiority and might on the land battle..
Standing over a devastated landscape of churned mud, charred trees. mutilated bodies and broken buildings, the tanks must have seemed like something conjured out of the furthest depths of H G Wells's imagination. Enormous, alien and intimidating, the tank was the mechanised manifestation of the last big push for a breakthrough.
Local newspapers would promote the event well in advance and when the tanks arrived in towns across Britain, it was done with great pride and pageantry, often with stirring, heart-warming speeches delivered by the mayor who could often be found standing on top of the tank.
Vast sums were raised in towns and cities across the country. In total, £300 million was raised – an enormous sum that is equal to approximately £15 billion in 2014.
Location: Monnow Bridge, Monnow Street, Monmouth, NP25 3EG
Archive image courtesy of Monmouth Nelson Museum
Presented by Monmouth local historian, Peter Garwood
Duration:
Featured in...
How the tank clanked its way into wartime notoriety

Places in Wales that tell a story of World War One
More clips from World War One At Home