Main content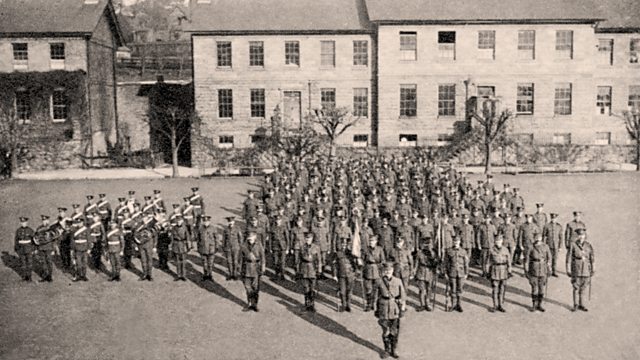 Brecon Barracks And Regimental Museum, Powys
Major Martin Everett introduces us to the Officers' Mess and The Regimental Museum
Major Martin Everett introduces us to the Officers' Mess, the military parade ground and The Regimental Museum, all situated just a few minutes' walk from Brecon town centre.
The parade ground in the barracks is now a car park, during WW1 this was where all the soldiers would drill and march up and down before their battalions were posted to France.
The medal room contains over 3,000 medals; each was earned in difficult and challenging circumstances; many soldiers made the ultimate personal sacrifice of their lives for these awards. There are 18 Victoria Crosses, Britain's highest award for gallantry, held in the collection.
Pictures and paintings, dioramas and drums, assegais and ammunition, buttons, badges and uniforms all combine to form a vivid image of life as a soldier.
The Royal Welsh is Wales' infantry regiment. It has inherited a distinguished military tradition from its predecessors: The Royal Welch Fusiliers (23rd Foot) and The Royal Regiment of Wales (formerly the 24th, 41st and 69th Foot - and later the South Wales Borderers, Welch Regiment and Monmouthshire Regiment). Although, in some respects, the story only began on 1st March 2006 when The Royal Welsh was formed, its history reaches back to the year 1689 when the 23rd and 24th Regiments of Foot were first raised.
Location: Brecon Barracks and Regimental Museum, Brecon, Powys LD3 7EB
Image courtesy of The Regimental Museum of The Royal Welsh (Brecon)
Duration:
More clips from World War One At Home