Main content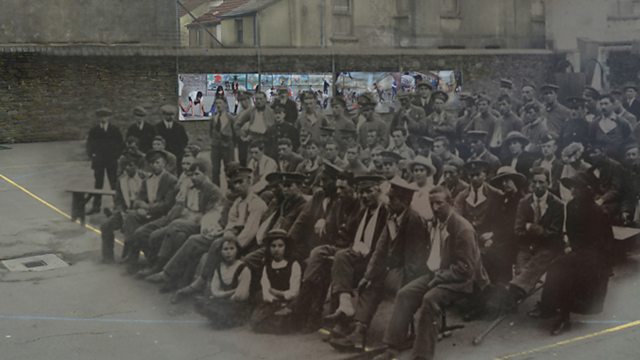 Roath, Cardiff: Albany Road School, Wartime Hospital
Many schools in Wales might study aspects of the war; very few of them are a key part of WW1 history
It's hard to imagine injured soldiers dying in the classrooms of one of Cardiff's busiest, and most diverse primary schools. But in August 1914, as casualty figures mounted on the Western Front, the Army authorities quickly needed to improve and extend their hospital facilities in the city.
One solution was to commandeer buildings that, with a little bit of work, might be converted to medical use. Albany Road Primary School fitted the bill perfectly, and plans were soon drawn up and implemented for speedy conversion, as desks were moved out, and beds moved in.
Although not entirely unique (Landsdown Road School in Cardiff also took in military casualties), the school is unusually fortunate to possess the original architect's ground plan of the hospital, and also a number of photographs depicting soldiers and some of the nursing staff.
The young 'detectives' of today's Year 6 have undertaken to study the school's structure in order to establish how much of the school of 1914 survives in 2014, and to what use today's classrooms were put back in the war.
An archive interview supports the evidence of the school's own log, that the children of the wartime school were sent to neighbouring schools – Roath Park and Marlborough Road, alternating between mornings and afternoons.
Although wartime children were not allowed to see inside the school buildings, it is clear from archive interviewees that they could not be shielded entirely from the realities of war, and the sight of casualties proved upsetting, not only to children, but also to some adults.
From contemporary newspaper reports it is clear that the hospital dealt with a large number of casualties. Equipped with an X-Ray Room and a dispensary, it had all the facilities we might expect of a modern hospital.
Nor was it spared the grim realities of life and death – a mortuary was situated in what is now a part of the infants school yard, and it is known that a number of servicemen died where children are now taught.
Today, the school pupils, under the direction of Deputy Head Teacher Mr William Howlett, are in some ways privileged to have a ringside view of the strange effects of warfare on the home front – truly a case of World War One at Home.
Location: Albany Road School, Albany Road, Roath, CF24 3RR
Images and recording courtesy of Albany Road School
Duration:
Featured in...
Places in Wales that tell a story of World War One

Hospitals, medical pioneers and the nursing contribution
More clips from World War One At Home