Main content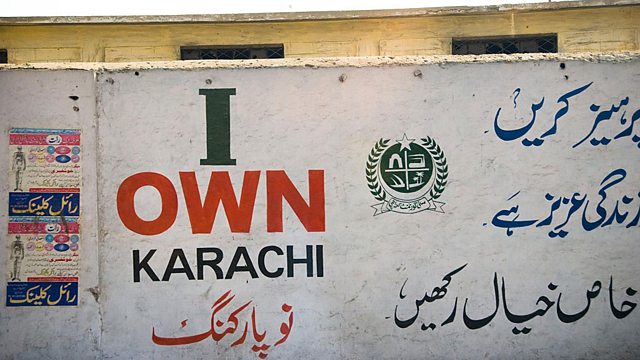 A Reporter's Guide to Karachi
A Karachi reporter's guide and a policeman's story, a Spanish family debates the monarchy, Mosul's story, watching the World Cup in Dhaka and BBC Africa's controversial sweepstake
Karachi is the largest, busiest and most violent city in Pakistan - and it's never out of the headlines. This week militants laid siege to the airport, and just the week before the city was at a standstill when the influential leader of a Karachi-based political party was arrested. Being a reporter in the city is not a straightforward gig and it is essential to know your terrain well. Saba Imtiaz maps out an insiders guide to an alternative Karachi.
The Karachi Cop and his Novel
Hundreds of policemen have lost their lives over the years fighting militants and criminal gangs in Karachi. In return they have been accused of corruption and not being able to deal with the violence on the streets. Omar Shahid Hamid, himself until recently a serving police officer in Karachi, has published a novel called The Prisoner, which highlights the role of the city's cops. Omar discusses these cultural depictions of Pakistan's police along with BBC Urdu's Umber Khairi.
Musings on Spain's Royal Family
Spain is about to crown a new King after the abdication of his father King Juan Carlos. When the King stepped down it prompted much debate over the role of the monarchy and its place in Spain. Some of that discussion took place round the kitchen table of the de los Reyes family. BBC Mundo's Ignacio de los Reyes mediates the family debate.
World Cup Fever in Dhaka
Football fever has hit Dhaka, the streets are billowing with the flags for Argentina and Brazil as Bangladeshis mark their territory of who they are supporting. Head of BBC Bangla - Sabir Mustafa, explains why a nation that has never qualified for the World Cup is so football crazy.
Stories From the Frontline: Iraq
Mosul, the northern Iraqi city is no stranger to conquest. From the Mongol wars of the 13th Century to the latter-day US led invasion, Mosul has always been a hotspot, and this week the government lost control over the city to Jihadist militants in what appears to be a rapidly expanding insurgency. BBC Arabic's Basheer Al Zaidi was born there and his colleague Haider Adnan is from Baghdad, they talk about their hometowns and about reporting a story that is so close to home.
Our own World Cup Sweepstake
Colleagues at BBC Africa will be watching the football tournament very closely as they want to make a buck or two on the teams they have drawn in the office sweepstake. We'll be finding out who has drawn who and whether it was a free and fair lottery.