Main content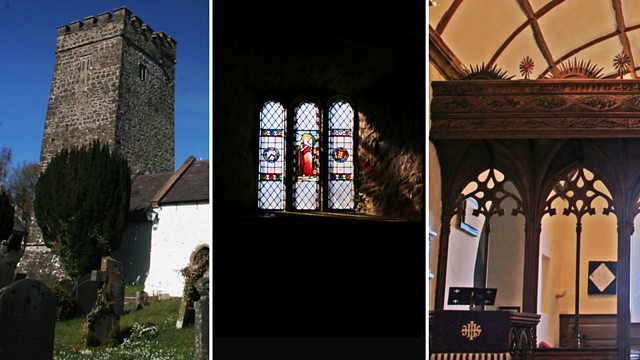 Llanwenog Parish Church, Ceredigion: A Wartime History Recorded in Wood Carvings
The Wartime History of an entire parish recorded in wood carvings
It's the story of an entire parish, set down not on paper or in stone, but on wood. The unique carvings of Llanwenog Church are the work of Joseph Reubens, one of several Belgian refugee artists who made Wales their home in 1914.
Reubens, a resident of Bruges, was fortunate to be billeted with Colonel Herbert Davies- Evans of Highmead, near Llanwenog. A keen organist and amateur wood carver in his own right, the Colonel very soon recognised the talents of his guest, and set Reubens to work with an ambitious project to carve a beautiful rood screen for the parish church.
By 1915 the screen was ready for installation. This was to be followed by a second major project to carve a series of bench ends depicting key events in the life of the parish. Designed in conjunction with Mrs Mary Davies-Evans, these record various episodes in the life of the parish. As well as events from medieval history, the bench ends give feature more recent events, particularly the names of those young men and women from the parish who went off to war, as well as events such as a ploughing match, and an eisteddfod.
Reubens also carved a very distinctive lectern. Very often, a lectern will feature an eagle. It is said that Reubens was repelled by the Germanic connotations of that bird (an emblem of Prussian militarism) and so he opted to ignore tradition and carve a Welsh dragon instead!
Little is known of Reubens life and subsequent career, although it is known that he went on to carve memorials in Lampeter, in Abereraeron, and was later in demand in England, where he carved shrines in Preston, Warrington and Sale.
Location: Llanwenog Parish Church, Ceredigion, SA40 9UT
Duration:
Featured in...
The impact on arts, literature, poetry and journalism

Places in Wales that tell a story of World War One
More clips from World War One At Home