Main content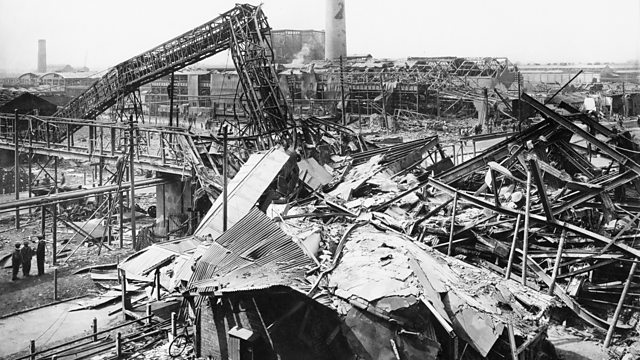 Chilwell, Nottinghamshire: Factory Explosion– Accident or Sabotage?
One of Britain's worst war time disasters
The National Shell Filling Factory in Chilwell was the scene of one of Britain's worst war time disasters.
On a hot summer's day in July 1918, there was a devastating explosion in the mixing plant which killed 139 and injured 250, flattening much around the site. Kate Adie has been looking in to the tragedy that was kept secret at the time and examines evidence about whether it was an accident or sabotage as suspected.
The ammunitions factory was the country's most productive shell filling factory during World War One, supplying more than half the shells fired.
It was hastily set up by Viscount Chetwynd in 1915 when a shortage of shells led to crisis at the front and a crisis in government. He chose a site near Nottingham that was flat with good road and rail links, but also in a dip to shield any explosions.
Ten thousand people worked in the Chilwell munitions factory including many women. They were known as 'canary girls' because, as local historian Maureen Rushton explains: "The chemicals some of them were using turned their skin yellow and their hair green."
Most of those who died in the blast were put in a mass grave in Attenborough village without being named. And it was 50 years before a memorial was put up.
Location: Chilwell, Nottinghamshire NG9 5HA
Image showing the devastation at the Chilwell munitions factory following the explosion courtesy of IWM
Presented by Kate Adie
Duration:
More clips from World War One At Home