Main content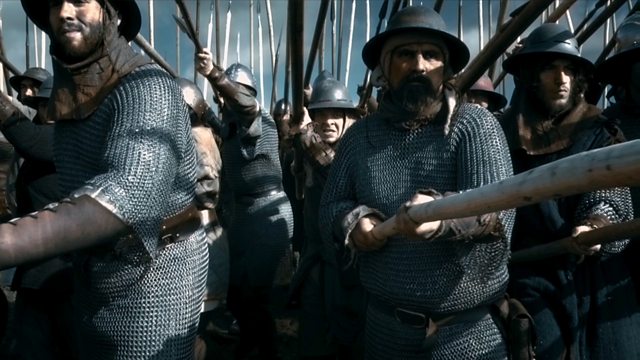 Scene 5: The clash
Taking down one lonely knight is one thing but it's estimated that Edward's cavalry numbered around 2,000. Robert's plan was to close the gap between him and the unprepared English as quickly as possible – so preventing the Edwards cavalry from building up enough momentum to smash the Scots line.
The Scottish army then reached the English, engaging them along the entire front. The English knights now found themselves hemmed in between the Scots schiltrons and the mass of their own army.
As the Lanercost chronicles describe;
"When the great horses of the English charged the pikes of the Scots, as it were into a dense forest, there arose a great and terrible crash of spears broken and of war horses wounded to the death"
Pushing forward, the Scots soon began to gain ground, and chaos broke out in the English ranks with many dead and wounded being trampled. The whole army was slowly but surely driven back.
Duration:
Credits
| Role | Contributor |
| --- | --- |
| Performer | The Clanranald Trust for Scotland |
Featured in...
The Clanranald Combat Team re-enact six key moments from The Battle of Bannockburn.
More clips from Original Series

More clips from The Quest For Bannockburn