Main content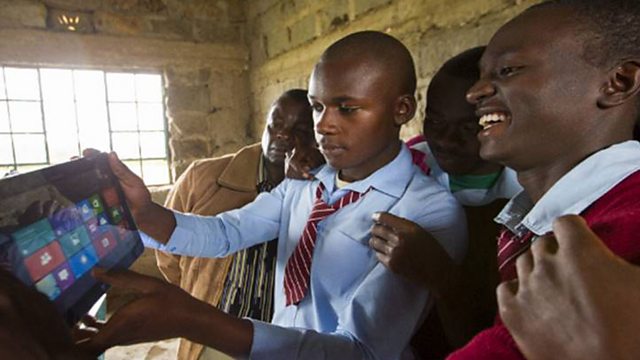 TV White Space in Ghana
TV white space in Ghana offers greater connectivity; An online project commemorating WW1; A preview of Remedy's game, Quantum Break; Kickstarting a camera lucida into being
TV white spaces, the unused portions of wireless spectrum in the frequency bands used for television, are well-suited for delivering low-cost broadband access to rural and other unserved communities. Radio signals in the TV bands travel over longer distances and penetrate more obstacles than other types of radio signals requiring fewer base stations. Microsoft is unrolling a new pilot project in Ghana that aims to exploit TV whites spaces covering entire campuses at All Nations University College as part of the company's 4Afrika Initiative. Click hears from Microsoft's Frank McCosker and the university's Carlene Kyeremeh.
Lives of the First World War
Lives of the First World War, an online history project by the Imperial War Museum in London, in memory of British and Commonwealth soldiers who fought in World War One, has been launched in the centenary of the war's beginning. It will allow verified material to be uploaded to paint a richer picture of those who fought in the war. Click hears from Luke Smith who is overseeing the digital project at the Imperial War Museums.
Remedy Entertainment: Quantum Break
Finland is one of the key players in the games industry. A host of exciting companies have gone from fledgling start-ups to commercial success including Remedy Entertainment. Remedy is now working on an eagerly anticipated game, Quantum Break. Click talks to Matias Myllyrinne, the CEO of Remedy about the company and the latest project which will be a combination of Xbox game and a TV series.
NeoLucida
Golan Levin is professor of Electronic and New Media Arts at Carnegie Mellon University. He takes pride in being a disruptive provocateur. Click hears about his belief in the maker movement and an unexpected viral success in a Kickstarter project, NeoLucida, the first lightweight portable camera lucida to be made in almost a century.
(Photo: Microsoft and its partners announce new TV white spaces project in Ghana © Microsoft 4Afrika)
Last on
Chapters
TV White Spaces

Microsoft's TV white space project offers greater broadband connectivity in Ghana

Duration: 05:35

Lives of the First World War

The online history project by the Imperial War Museum commemorating the lives of soldiers

Duration: 05:18

Remedy Entertainment: Quantum Break

A preview of Remedy Entertainment's eagerly anticipated game, Quantum Break

Duration: 05:47

Golan Levin: NeoLucida

Golan Levin describes his Kickstarter project to make a cheap portable camera lucida

Duration: 04:10

Broadcasts