Main content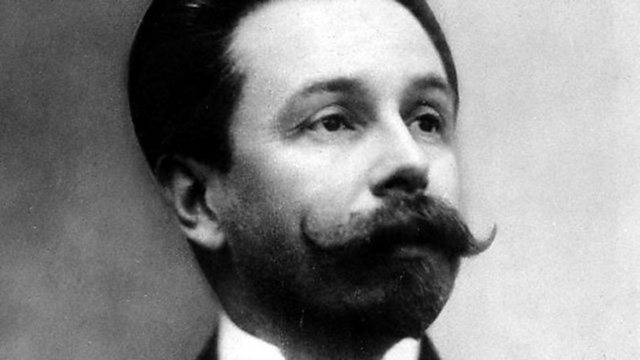 Alexander Nikolaevich Scriabin
The life and career of Alexander Scriabin is revealed by Donald Macleod.
Donald Macleod begins by following the young Scriabin from a cosseted upbringing by '2 grandmothers and an aunt', via the Cadet Corps, to studenthood at the Moscow Conservatoire, where over-practising damaged his right hand. After graduating, he became a protégé of the great patron of Russian music, Mitrofan Beliaev.
Donald Macleod continues his exploration of the life and work of Alexander Scriabin through his piano sonatas, recounting the story of the composer's often tempestuous relationship with his patron Mitrofan Belaiev, and his equally tortuous relationship with women, many of whom were teenagers; the music from this part of his life includes Scriabin's only song, and his only Piano Concerto.
While many of Scriabin's works are small-scale piano pieces, he also worked on a larger scale. Donald Macleod introduces the composer's massive Second Symphony and Fifth Piano Sonata, and explores Scriabin's personal philosophy that prompted him once to exclaim 'I am God!'.
Donald Macleod then introduces a performance from the Proms of Scriabin's Poem of Ecstasy, explores the composer's obsessions with hair and cleanliness, and contrasts the Seventh and Ninth Piano Sonatas, nicknamed the White and Black Masses.
Donald Macleod concludes his exploration of the life of Alexander Scriabin with an exploration of synaesthesia, and performances of Prometheus: Poem of Fire and the composer's final piano works, the Op 74 Preludes and his Tenth Sonata. He also visits Scriabin's Moscow flat and describes the composer's plans for his incomplete magnum opus Mysterium.
Duration:
Credits
| Role | Contributor |
| --- | --- |
| Composer | Alexander Scriabin |
More clips from Composer of the Week