Main content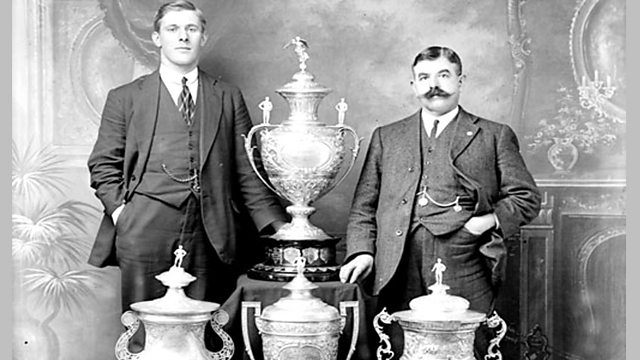 The John Smith's Stadium, Huddersfield: Four Trophies During Conflict
One of the greatest rugby players in Huddersfield's history
Harold Wagstaff was Huddersfield's greatest rugby player. He made his Huddersfield debut aged 15 and remains the youngest ever international.
In the summer of 1914 he captained the Great Britain tour of Australasia, playing his greatest-ever match at Sydney. Great Britain won 14-6 despite being reduced at one point to just 9 men in the second half. Wagstaff reportedly made up the missing numbers on his own.
They returned to a country at war, but the 1914-15 season was largely unaffected and Wagstaff captained Huddersfield's 'Team of all Talents' to all four cups - the League Championship, Challenge Cup, Yorkshire League and Yorkshire Cup. He married Ann Battye in Holmfirth in January 1915.
Outside of his sporting life, Wagstaff worked as a motor driver and in 1916-17 he was called up to the Army Service Corps based at Grove Park by Major Stanley, who wanted the best rugby team in the army. In 1917 he was called up to serve as a driver in the Middle East.
He returned to Huddersfield after the war and Huddersfield were back on course, winning the Challenge Cup, Yorkshire Cup and the Yorkshire League in 1919-20. In 1921-22 Wagstaff led the team that regained the Ashes.
Towards the end of 1938 Wagstaff was in poor health. A severe attack of influenza left him with heart problems. He died in Huddersfield Nursing Home on 19 July 1939, aged 48. Thousands lined the streets as his funeral cortege, bedecked in claret and gold, travelled through
Huddersfield and back to his birthplace, Holmfirth.
Erol Crabtree, Prop for Huddersfield Giants Rugby League team, tells this story about the man who is one of his own heroes.
Location: The John Smith's Stadium, Stadium Way, Huddersfield HD1 6PG
Image showing Harold Wagstaff and all four cups, courtesy of David Gronow and Huddersfield Rugby League
Presented by Erol Crabtree, Prop for Huddersfield Giants Rugby League team
Duration:
Featured in...
Places around Leeds that tell a story of World War One

The devastating impact on sporting life and the rise of women's football
More clips from World War One At Home