Main content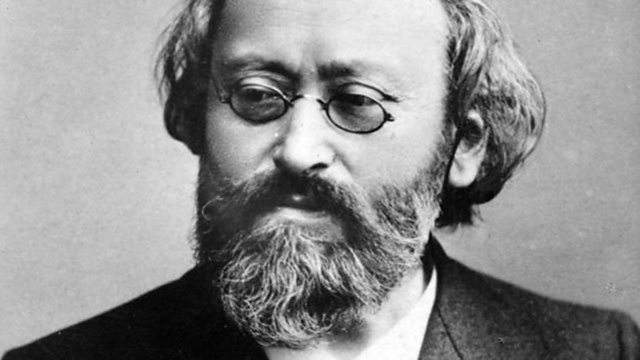 Max Christian Friedrich Bruch
The life and work of German Romantic composer Max Bruch.
Donald Macleod looks at Bruch's relationship with the city of his birth, Cologne. He had a very promising start as a student of Hiller, and then embarked on a career in the wider world, caught up in the battle between conservative and revolutionary forces in music in the late 19th century. Bruch grew increasingly bitter over the years that he was not able to base himself in Cologne permanently, as the right job offer never came, and the success or otherwise of his works there would always matter hugely to him.
Donald Macleod looks at the works Bruch wrote as a court composer in Coblenz, and the influence of folksong on his melodies. Though Bruch went on to compose two more violin concertos and plenty of other works, he never struck gold as he did in his first Concerto for violin. The Concerto was so wildly popular that musicians would lie in wait for him on street corners in Naples, ready to break out into it when they saw him coming.
Bruch seems to have been happiest when in retreat in the wooded hills near Cologne. Donald Macleod looks at some of the works Bruch wrote as a guest at the idyllic country house of friends, the Igeler Hof, including two choral works written with the 'singing masses of the Rhineland' - a loyal fanbase for him - in mind.
Donald Macleod looks at Bruch's stint in Liverpool as Director of the Philharmonic Society. Although he enjoyed domestic life in Sefton Park with his young bride Clara, his relationship with the city was uneasy. While his arrival was much trumpeted in the newspapers, his departure was barely remarked on. He wrote to his former teacher Hiller a year after beginning work there: "I am too much a German, and my whole being and feelings are too deeply rooted in German soil for me ever to consider myself to be at home among the driest, most boring, most unmusical race on earth".
Bruch felt that he had never had his due in Berlin, and that on the contrary his music and his talents had been consistently underrated there. His experience of working with orchestras and his treatment by the press - "treated either as a schoolboy or a scoundrel" - as he put it, left him feeling deeply resentful. But he spent his final three decades in the city, and fortunately found a prominent job as Director of Masterclasses for Composition at the Berlin Academy. Donald Macleod examines Bruch's final years.
Duration:
Credits
| Role | Contributor |
| --- | --- |
| Composer | Max Bruch |
More clips from Composer of the Week