Main content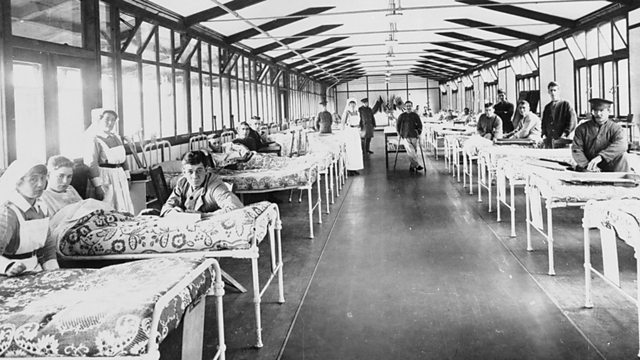 Cliveden, Berkshire: Lady Astor's Red Cross Hospital
Waldorf and Nancy Astor open hospital for Canadian soldiers on lavish Cliveden estate
Cliveden, the lavish home of MP Waldorf Astor and his wife, Nancy, became known as one of the most luxurious makeshift hospitals for soldiers in World War One.
When Waldorf failed his medical at the start of the war, he offered part of his estate to the British government for use as a hospital, but they turned his offer down. Undaunted, he turned to the Canadians who accepted and in 1915 the Duchess of Connaught Canadian Red Cross Hospital was established.
Initially 106 beds were provided in cubicle style wards constructed on the covered tennis court. Huts were later added providing facilities for up to 600 men at a time. The hospital was entirely equipped by the Canadian Red Cross and the women of Canada who sent everything from dressings, bandages and linen to pickles, jams, apples and biscuits.
Nancy Astor was a regular visitor to the soldiers and devoted herself to encouraging them back to health by reading and talking to them, taking them to the theatre and allowing them to convalesce in the beautiful grounds. She kept a scrapbook of newspaper clippings and letters sent to her by grateful soldiers.
During the war, the Astors gave permission for the Italian sunken garden to be turned into a cemetery for the servicemen and women who died there. It is now a memorial garden containing 42 graves, managed by the Commonwealth War Graves Commission.
Location: Cliveden SL6 0JA.
Photograph showing nurses and patients at the New Brunswick ward of the Duchess Connaught's Canadian Red Cross Hospital at Cliveden, courtesy of Imperial War Museums.
Presented by Janice Hunter. Letters from Canadian Soldiers read by: The Tenors: Remigio Pereira, Victor Micallef, Fraser Walters and Clifton Murray. The Tenors appear courtesy of Universal Music Canada. Other extracts from soldiers letters read by Joe Rand and Stephen Kellett.
Letters from Canadian soldiers in the Nancy Astor collection at the University of Reading Special Collections Service.
Duration:
More clips from World War One At Home