Main content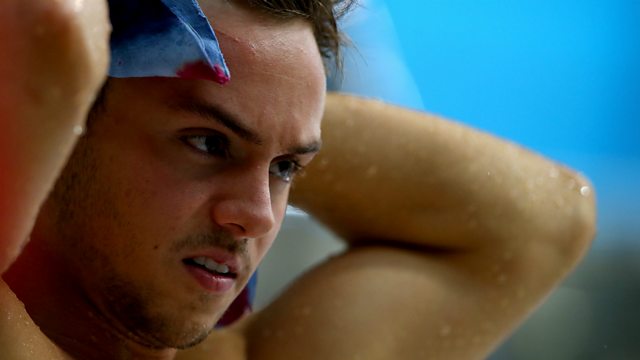 Peter Waterfield: Tom Daley "needs to knuckle down"
Tom Daley's 'demon dive' returned in the 10m platform World Series final, meaning he missed out on a medal on his competitive return to the London Aquatics Centre.
He finished fifth, scoring 525.45 in the 10m platform World Series final, with China's Jian Yang setting a new world record total of 616.5, winning a gold medal with the time.
"I'm literally terrified of it," Daley told BBC Sport. I'm going to see a therapist about it again, because it's almost become a bit of a phobia and my heart-rate is through the roof when I get ready to do it," he said.
Daley's London 2012 diving partner, Peter Waterfield spoke of Tom's decision to seek therapy.
The olympic silver medalist told 5 live Breakfast "I know Tom's been a busy boy with his shows. I think that's now starting to show through. He needs to knuckle down with his training and his diving if he's to achieve what he's capable of achieving."
This clip is from 5 live Breakfast, 28th April 2014.
Duration: