Main content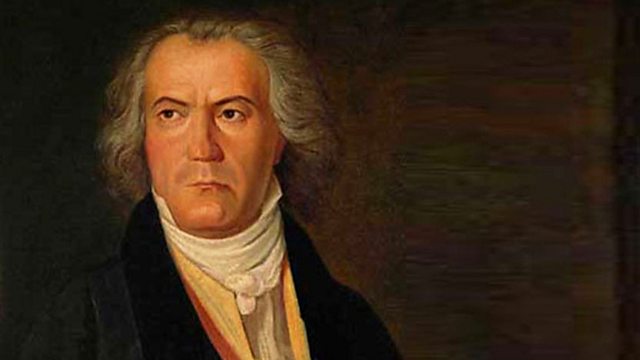 Ludwig van Beethoven - years of crisis
An exploration of key years in Beethoven's life beginning in 1803.
Aside from his music, Beethoven is perhaps best known for his devastating loss of hearing and infamous love life. Donald Macleod examines how this complex man was affected by such crises, set against the backdrop of the turbulent years through which he lived. In each episode Donald concentrates on the music and events in and around one significant year, beginning in 1803. By then, aged 33, Beethoven's hearing had already begun to deteriorate and the previous year he wrote of his despair and thoughts of suicide. It marked a change in his music and a new 'heroic style' emerged, reflected in the virtuosic Waldstein Sonata and in the Eroica Symphony, originally written in Napoleon's honour. In the second programme, Donald reflects on 1809, the year Napoleon invaded Vienna. We'll hear from the Les Adieux Piano Sonata and majestic Emperor Piano Concerto, both of which Beethoven wrote for his friend and patron, Archduke Rudolph.
Beethoven had numerous amorous encounters over the years, but things came to a head in 1812. That year he wrote a love letter to his 'Immortal Beloved' whose identity has given rise to endless speculation. In the third programme Donald introduces songs written for the woman thought to be the intended recipient, Antonie Brentano, and ends the programme with the final major work of that year, his 8th symphony.
Beethoven's only opera Fidelio is one of the most intense and moving of all music dramas, a celebration of the triumph of the human spirit over adversity, and it forms the focus of the fourth programme. In the fifth and final programme, Donald looks at 1822. The increasingly reclusive composer wrote his last piano sonata that year and his Handelian overture The Consecration of the House. But his greatest project, which took some five years to complete, was the Missa Solemnis, his largest choral work and for Beethoven, the supreme challenge of his life.
Duration:
Credits
| Role | Contributor |
| --- | --- |
| Composer | Ludwig van Beethoven |
Featured in...
Listen to programmes examining the life and works of Ludwig van Beethoven.
More clips from Composer of the Week