Main content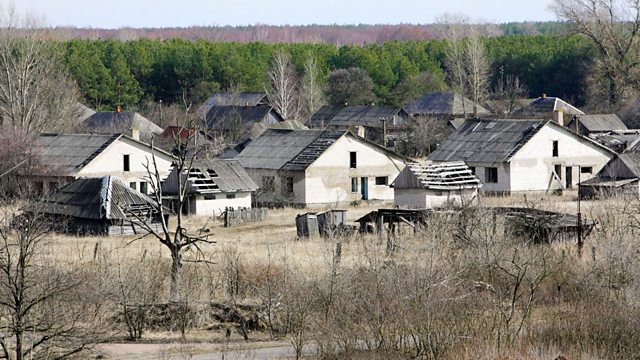 Birds in Chernobyl
Birds adapting to radiation in Chernobyl; Deep sea mining of copper and gold from hydrothermal vents; Tales from the EGU; Insect sounds of Borneo
This week saw the 28th anniversary of the Chernobyl nuclear disaster. On 26 April, 1986, reactor number 4 exploded. The resulting fire spread radioactive contamination across what is now Ukraine. An exclusion zone, extending 30 kilometres out from the plant, was put in place. Professor Tim Mousseau from the University of South Carolina, in the US, has been studying the effects on wildlife for many years. Now for the first time he has seen that some birds have adapted to the high radiation levels.
Deep Sea Mining
The mining of precious metals has long-driven exploration and exploitation, from the gold rush in California in the 1850s, to plans to mine the moon. Now plans to open the world's first deep-sea mine have moved a significant step closer to realisation. A Canadian company, Nautilus, has signed an agreement with Papua New Guinea to start digging up a part of the bed of the Pacific Ocean. Because of hydrothermal vents in the seabed, the area is far richer in gold and copper than we see on land. The project is controversial, with environmental campaigners saying it will prove devastating to marine life. We spoke to marine biologist Dr Jonathan Copley, and to geologist Professor Stephen Roberts, both from the University of Southampton, to ask about the benefits and risks of deep sea mining.
EGU
Volcanoes constructed in labs, ancient landslides, and tsunamis on Swiss lakes – these stories can mean only one thing – it's the European Geosciences Union General Assembly in Vienna. Our BBC Science Correspondent, Jonathan Amos, joins Science in Action to tell us of the research being done by the top planetary, earth, and space scientists.
Insect Sounds
Science in Action's resident zoologist, Dr Tim Cockerill recently found himself filming animals deep in the jungles of Borneo. Before he left, we gave him an audio recorder to see what he could discover about the animal communities there, just by listening to them. He came into the studios to share with us what he found.
(Photo caption: A view of the deserted Belarussian village of Tulgovichi, 370 km southeast of Minsk © AFP/Getty Images)
Presenter: Jack Stewart
Producer: Ania Lichtarowicz
Last on
Chapters
Birds in Chernobyl

Birds adapting to radiation in the Chernobyl exclusion zone

Duration: 05:50

Deep Sea Mining

The deep sea mining of copper and gold off the Papua New Guinea coast

Duration: 08:10

Tales from the EGU

The latest planetary science from Europe's top researchers

Duration: 06:31

Insect Sounds

Dr Tim Cockerill records extreme insect noise in Borneo

Duration: 04:35

Broadcasts