Main content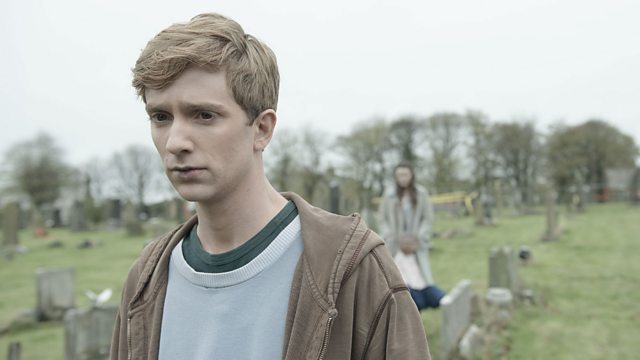 Zombie drama series. Kieren is keeping his head down in Roarton, but when a pro-living MP erupts into the village his instinct is to flee. Amy returns home with stranger in tow.
Zombie drama series. Kieren Walker, in the now seemingly PDS-friendly world of Roarton, is keeping his head down, working soul destroying shifts in the Legion pub and squirrelling money into his 'escape fund'. The only problem is that he can't escape himself.
In the wider world, tensions are re-igniting. The radical pro-living party, Victus, is whipping up hatred and the Undead Liberation Army is retaliating violently. When Victus MP Maxine Martin enters Roarton, Kieren is dismayed, sensing that danger is encroaching. And when Vicar Oddie violently clashes with her, it seems Kieren's instincts are right.
Kieren is also overjoyed by the return of his BDFF (best dead friend forever), Amy Dyer, though his delight is cut short by a tense encounter with Amy's opinionated beau, ULA member Simon. When Amy and Simon reveal the prejudice still bubbling under the surface in Roarton, Kieren knows he needs to leave the village immediately.
More episodes
Previous
You are at the first episode
Music Played
Timings (where shown) are from the start of the programme in hours and minutes
Credits
| Role | Contributor |
| --- | --- |
| Kieren Walker | Luke Newberry |
| Steve Walker | Steve Cooper |
| Shirley Wilson | Sandra Huggett |
| Jem Walker | Harriet Cains |
| Ken Burton | Ricky Tomlinson |
| Vicar Oddie | Kenneth Cranham |
| Sue Walker | Marie Critchley |
| Nervous PDS Sufferer | Joseph Hamilton |
| Amy Dyer | Emily Bevan |
| Leader | Daniel Hanbridge |
| Ken's Nephew | Luke Gardiner |
| Ken's Nephew | Jack Gardiner |
| Female PDS Friend 1 | Chloe Harris |
| Female PDS Friend 2 | Christina Tam |
| Simon Monroe | Emmett J Scanlan |
| Dr Tom Russo | Paul Warriner |
| Freddie Preston | Bryan Parry |
| Receptionist | Anita Breheny |
| Gary Kendal | Kevin Sutton |
| Maxine Martin | Wunmi Mosaku |
| Philip Wilson | Stephen Thompson |
| Pearl Pinder | Gillian Waugh |
| Rose | Sherry Ormerod |
| Brenda | Wendy Patterson |
| Dean Halton | Gerard Thompson |
| Hilary | Cajan Sanderson |
| Rob | Jack North |
| Karen | Rachel Levine |
| Charlotte Reigns | Tasha Connor |
| Frankie Kirby | Eve Gordon |
| Henry Lonsdale | Charlie Kenyon |
| Sandra Furness | Fiona Wass |
| Connie Furness | Sara Kestelman |
| Clive Furness | Chris Finney |
| Duncan Lancaster | Steve Garti |
| Keith | Rory Gallagher |
| Raymond | Liam Ainsworth |
| Mrs Sylvia Lonsdale | Kate Wood |
| Al Dugdale | Joe Gill |
| Producer | John Rushton |
| Director | Jim O'Hanlon |
| Writer | Dominic Mitchell |