Main content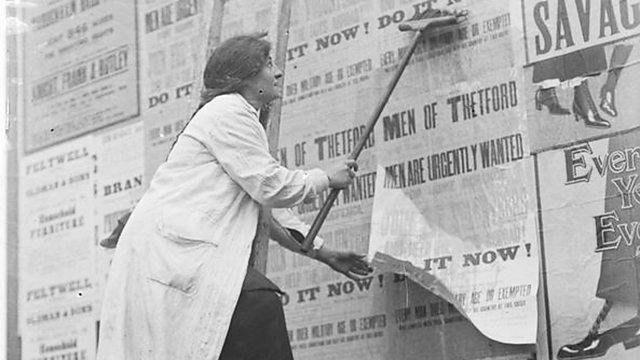 Thetford, Norfolk: The Female Town Crier
Florrie Clarke takes over as town crier when her father goes to fight
With hundreds of men leaving their homes and jobs to go and fight it's unsurprising that women took on new roles during World World War.
Between 1914 and 1918, an estimated two million women replaced men in employment, resulting in an increase in the proportion of women in total employment from 24 per cent in July 1914, to 37 per cent by November 1918.
When peace was declared many women gave up their jobs. This is understandable given the pressure on women to ensure employment opportunities to returning men and keep their domestic lives in order in straitened times. But their experience in the war opened up a wider range of employment opportunities, particularly for those who were unmarried.
The stories of munitions factory workers and nurses in WW1 are relatively well known. But in Thetford Florrie Clarke took on a very unusual job. She became the town's crier replacing her father John when he went to fight.
The town's current crier is Mike Wabe.
Location: Thetford, Norfolk IP24 2AZ
Image of Florrie Clarke courtesy of Imperial War Museums
Presented by Mike Wabe, Thetford Town Crier
Duration:
Featured in...
People who changed the world around them

Places in Norfolk that tell a story of World War One
More clips from World War One At Home