Main content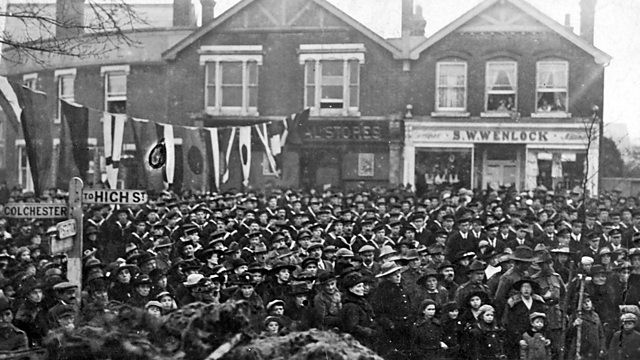 Brightlingsea, Essex: Australian Take Over
The impact of Australian soldiers who soon outnumbered the local male population
Brightlingsea became home to thousands of Australian soldiers during WW1 as they trained for the frontline. It was the only Australian base or camp on the east coast of Britain, and the troops soon outnumbered the existing male population of Brightlingsea. The Aussies populated the local pubs and were renowned for their drinking and games.
The area was selected for the Australian Field Company of Engineers because of its geography – tidal creeks which offered practice for bridge-building, and the soft soils and mud could be used for trench digging.
The Australians were initially met with scepticism – taller, broader and suntanned; they dressed differently and had a strange accent. But they were welcomed into Brightlingsea by the locals – so much so that some remained behind after the war to start a new life in Essex, including George Rickwood.
Here, George's historian grandson Julian Foynes guides us round the centre of Brightlingsea where his grandfather trained.
Location: Victoria Place, Brightlingsea, Essex CO7 0BX
Image shows Victoria Place in Brightlingsea, looking north towards Queen Street, courtesy of Margaret Stone, curator of Bringhtlingsea Museum
Presented by Julian Foynes
Duration:
Featured in...
Places in Essex that tell a story of World War One

ANZAC and Commonwealth troops
More clips from World War One At Home