Main content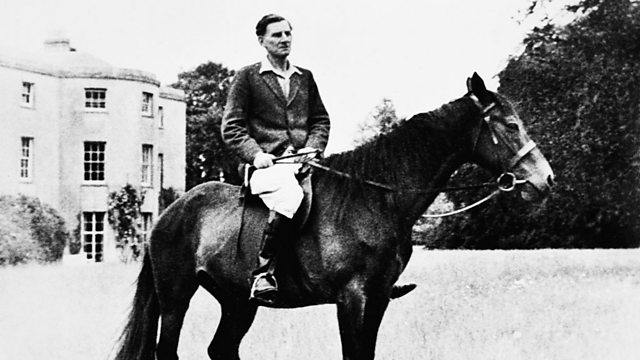 Heytesbury House, Wiltshire: Bombs, Medals and Cricket
Where poet, Siegfried Sassoon, enjoyed one of his lesser known passions
Drivers using the A36 between Salisbury and Warminster may be interested to know that WW1 poet Siegfried Sassoon lived in Heytesbury from the early 1930s. These same Wiltshire drivers may be unsurprised to find that Heytesbury House came with the usual benefits afforded to landed gentry, including a cricket pitch. What might raise eyebrows is that Siegfried was a devotee of leather on willow and delighted in facing down bowlers, standing at his own crease.
Andrew Pinnell is the author of 'Siegfried Sassoon: A celebration of a cricketing man'. Andrew's grandfather was a Heytesbury boy and worked in the gardens at the Manor when Siegfried bought it in 1933.
"He went on to be a gamekeeper on the estate but before that he was one of the 'garden boys' and what they all enjoyed, above all, was a game of cricket on a Saturday", says Andrew. "So when this famous war poet came to live at the Manor they were all delighted that there was a cricket aficionado owning the house".
Siegfried lost no time, apparently, in making his love of cricket clear.
"He put up nets in the garden and would emerge from the house at 2 o'clock in the afternoon, say, having been up all night writing and then demand that the boys stop working so they could bowl against him in the nets.
However, Andrew's family history tells him that Siegfried's love of the game outweighed his skills. "Bless him; if he's looking down on me now, he wouldn't mind me saying this, he was no cricketer of distinction. My grandfather was a quick bowler and he had to slow it up to bowl at Siggie or else he'd be knocking him over every time!"
Moreover, Andrew laughingly says that Sassoon's imperious attitude towards batting orders often made itself felt: "Heytesbury had a strong team around that time, against other parishes and so on. He didn't play that often but when he wanted a game, he would wander over and some poor player would have to bow to serfdom, remove himself from the pitch, so Siggie could stand over there and whimsically admire the estate".
For Robert Pulvertaft, step-son to Sassoon's only son, George, cricket brought a sense of peaceful refuge to the famous war poet.
"Seigfried often said to his son, George, that he wished he'd died during the First World War, because in terms of his legacy, he was really treading water for the rest of his life. So, I think cricket was a form of catharsis for Seigfried; a form of gentle combat where the tradition and the rules and the certainty were all predefined."
Robert's home, a short drive from the pitch, is littered with memories of Sassoon. There's an incomplete, life-size painting of the man, by his wife Hester. It's unfinished because their marriage broke up in 1947. The same hat seen in the painting hangs by it. Robert found it in a barn covered in dust and cobwebs.
Given Sassoon's well known feelings of opposition to the First World War, it's perhaps surprising to see a Short Muzzled Lee Enfield rifle hanging on the wall: "It was a standard rifle issued to soldiers in the First and Second World Wars. This one's been deactivated so it can't fire. This is a sniper variant which Siegfried bought for his son George, so that he could go hunting in Heytesbury Wood."
Robert accepts that this apparent encouragement of violence might seem contradictory to those who know Sassoon best for his anti-war sentiments: "But it's not a contradiction, because he was actually pro-war in the sense of patriotism towards his country and, shall we say, contempt for the Germans. It was the conduct and management of the war by senior officers and the politicians that he truly objected to."
Robert says it's a comfort to him that Heytesbury's cricket pitch is a living reminder of his step-grandfather: "The pitch is still there and is still ultimately owned by the Sassoon family, so his legacy continues in the sense that the pitch continues and the Heytesbury & Sutton Veney cricket team continues."
Hopefully, the next time drivers on the A36 see the diminutive white sign for Heytesbury, they might consider visiting the cricket pitch where one of Britain's greatest war poets enjoyed the simple pleasures of cricket.
Location: Heytesbury House, Wiltshire BA12 0HG
Image shows Sassoon outside his home, Heytesbury House, courtesy of Imperial War Museums
Presented by Andy Purnell, author of 'Siegfried Sassoon: a celebration of a cricketing man', along with Robert Pulvertaft, step-grandson to Siegfried Sassoon, who used to live – and enjoy his cricket – at Heytesbury
Duration:
Featured in...
The impact on arts, literature, poetry and journalism

Places in Wiltshire that tell a story of World War One
More clips from World War One At Home