Main content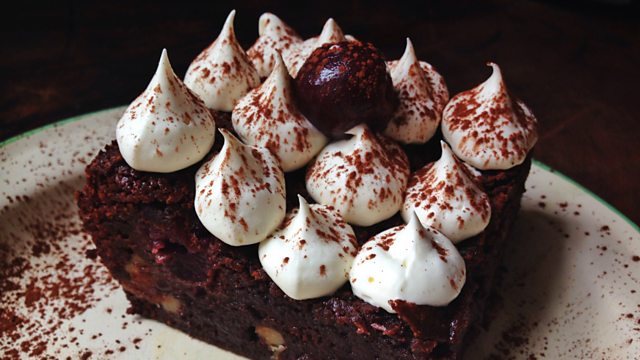 Food Friday
Ingredients:
300g unsalted butter, cubed
250g dark chocolate broken into small pieces
1 handful dried cherries
2 handfuls walnut pieces
1 capful vanilla extract
Pinch sea salt flakes
80g plain flour
360g caster sugar
80g cocoa powder
1 teaspoon baking powder
4 eggs, lightly beaten
1 x 400g can dark cherries in syrup, drained
For the glaze: (optional not essential)
2 heaped spoonfuls morello cherry jam
50ml kirsch or other alcohol such as dark rum
For the topping:
300ml whipping cream
3 heaped tablespoons mascarpone
1 teaspoon cocoa
Method:
1: Heat oven to 180C. Put the butter and chocolate in a bowl set over simmering water and melt until silky and thoroughly combined then add the dried cherries and nuts.
2: combine the flour, cocoa, sugar and baking powder in a separate bowl and stir to mix.
3: Add the flour mx to the melted chocolate and gently stir to combine then add the eggs and continue to mix gently with a spatula until it is all thoroughly combined.
4: Line a 25cm x 25cm baking tray with greased baking paper that overhangs by a few cm to make it easy to remove the brownie later, and pour in the brownie mix, scatter over half of the cherries and push them into the mix.
5: Bake for 25-30 minutes (it will be quite wobbly, it will harden on cooling) then remove from oven and leave to cool completely in the baking tray.
6: Put the glaze ingredients in a small saucepan and cook over a medium heat for 4 minutes. Brush over the cold brownie.
7: remove the brownie from the tin.
8: Beat the whipping cream until firm then ad the mascarpone and mix well, put it in a piping bag and pipe over the top of the brownie to cover. Decorate with the remaining cherries and a dusting of coca.
Duration:
More clips from Ben Jackson