Main content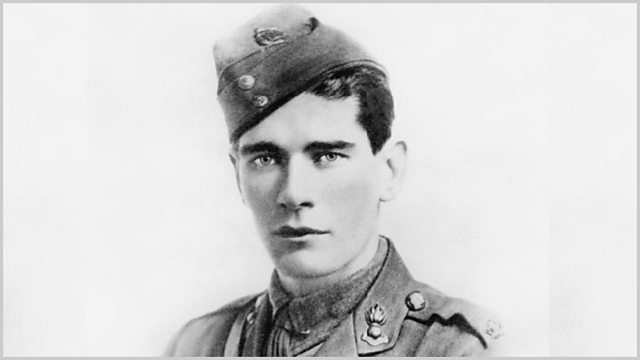 Wellingborough, Northants: Mick Mannock – Ace of Aces
Edward "Mick" Mannock was the leading British ace of WW1 and an extraordinary character
Edward "Mick" Mannock was the leading British ace of World War One and an extraordinary character.
War in the air was perhaps the most romantic and idealised of all Fronts in WW1, but Mannock is a contrast to the image of public schoolboys playing out a game of chivalry in the skies. He was the son of a corporal and lived in India as well as England, in Wellingborough. He worked for the National Telephone Company and was chair of the local Independent Labour Party.
He was a fascinating man of contradictions. Accusations of cowardice followed him as a result of the nerves he suffered in aerial conflict, yet his bravery cannot be in doubt, being credited with 61 "kills" (although the total may be higher), winning the Military Cross twice, the Distinguished Service Order three times and the Victoria Cross posthumously.
Despite his bravado, killing and death on the Western Front affected him deeply. He campaigned for British pilots to be issued with parachutes and carried a revolver with him to use on himself should his plane catch fire.
Location: Wellingborough, Northants NN8 1QT
Image of Edward 'Mick' Mannock courtesy of Sywell Aviation Museum
Presented by Ben Brown from the Sywell Aviation Museum
Duration:
Featured in...
Places around Northampton that tell a story of World War One

Zeppelin raids and aviation heroics
More clips from World War One At Home