Main content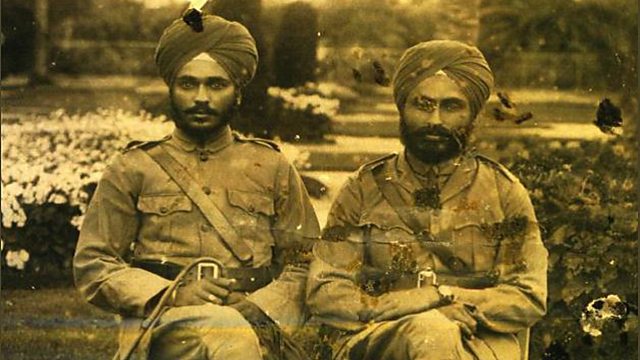 Stoney Stanton Road , Coventry: Sikhs in the Trenches
Sikh soldiers like Maghar Singh are commemorated by a 22ft memorial in Coventry.
When you think of the troops in World War One, what do you see? Men in the trenches, covered in mud? British tommies? But in 1914, Britain still had its Empire; the largest in history.
So when war began, it called on all of its forces: the Empire's army.
In the middle of a busy Coventry roundabout on the A444 sits a 22ft marble monument dedicated to the Sikh regiments who died in their thousands during both World Wars.
Jagdeesh Singh's father, along with other Sikhs in Coventry, was instrumental in setting up the memorial in 2002. Three generations of his family served in the British Indian Army. This included great-great grandfather Bassan Singh in the 1st Sikh Infantry: the first Sikh regiment formed in the British Indian Army following British occupation and annexation of the Punjab in 1849. He served from 1850 to 1880, in the North West Frontier and across India. This was followed by his son, Bufsun Singh, and then by Maghar Singh who served in the distinguished Kings Own Central India Horse during both World Wars.
Maghar Singh was only 15 when he signed up to fight in the British Indian Army. His first military mission was to France to fight in the Great War. The family were told stories of when the men arrived in the streets of France they had a warm welcome and were referred to as 'wonderful new warriors who had come to liberate France'. Maghar remained in France for almost the entirety of the war (1915–1918), fighting in the trenches. He won medals and continued to serve in the army and fought again for Britain in World War Two.
Jay Singh Sohal, a journalist and filmmaker has made a number of films and documentaries about Sikh history: "Sikhs who were sent to fight in Flanders didn't know where they were going .It was a conflict that they never thought they'd see. But the reality of trench warfare quickly dawned upon them: it was a cold climate, they weren't used to seeing this kind of warfare. They took to it, they were there to fight and they led the charges against the opposition and they had their bayonets fixed. It is part of the history that is often forgotten but one that we can take a lot of pride with; we can look back on the heroics of our ancestors and feel proud that they fought for us."
Along with local Sikh representatives, we had the rare opportunity to visit Sandhurst, the world-famous Royal Military Academy, where future officers and leaders of the British Army are trained. It is also home to a hidden piece of Indian Military history, the Indian War Memorial Room.
Colonel Robin Vickers said: "The Sikh community provided some very fine, capable soldiers that were brought to the battlefields of Europe as part of the British contribution to the First World War. The numbers of their causalities paints a picture: 83,000 Sikhs gave their lives in the First and Second World War combined and over a hundred thousand were very seriously wounded."
Today, the number of Sikhs serving in the British Army is small, approximately 250 Sikhs are currently serving in the army, a number that they are looking to address.
The Sikh and other Empire nations contribution has been forgotten by some. Despite being born in the UK, Jagdeesh Singh has suffered from racial abuse for being a turban-wearing Sikh and feels more needs to be done to show their part in Britain's history:
"My grandfather, and others like him never even set foot in this country, and they were dying in their thousands for this country. Sikh soldiers died with British soldiers, alongside them but where is the Sikh face? Why are we airbrushed out of history? We deserved to be mentioned again and again and again just like the British soldier does. We are more British than the average Britain."
Location: Stoney Stanton Road, Coventry CV6 5QQ
Image shows Maghar Singh (left) and senior officer, Dalip Singh of the Kings Own Central India Horse, courtesy of Jagdeesh Singh
Presented by Siobhan Harrison
Duration:
Featured in...
Places in Coventry & Warwickshire that tell a story of World War One

ANZAC and Commonwealth troops
More clips from World War One At Home