Main content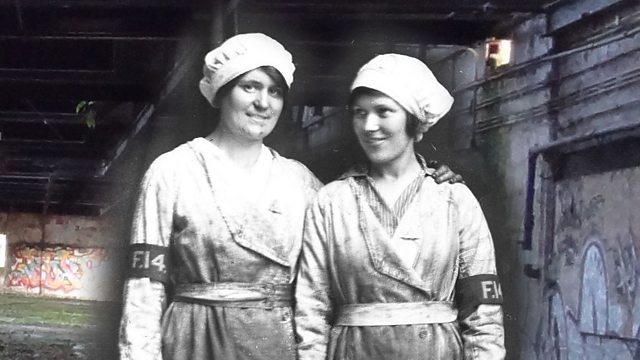 Rotherwas Munitions, Hereford: How Factory Work Affected Health
They filled 70,000 shells a week but canary girls paid the price with their health
The Rotherwas Shell Filling Factory on the outskirts of Hereford was constructed by the Ministry of Munitions on the site of the Rotherwas Mansion, which had been demolished to make way for the new factory complex. Shell filling began there on 11 November 1916. The workers were brought from all over the UK, including Ireland and special trains were run from Barrs Court Station in Hereford out to the factory station, bringing employees on free tickets, who came in from their billets around Hereford, Leominster, Ross and elsewhere.
The WW1 site consisted of 27 miles standard gauge railway, three miles of road, nine miles of guard fence, 10 miles of footpaths and sentry paths, and 370 buildings varying in floor area. It covered about 100 hectares. The site was a filling factory, inserting explosive into shell and fitting detonators.
At the factory's peak in 1918, almost 6,000 people worked there and 4,000 of these were women. They were known as the 'canary girls' as the luddite turned their hair and skin yellow and caused tooth decay. For many it led to lifelong health problems.
The average output of shells was 70,000 per week during World War One, with both luddite and amatol explosives being used in their production. The factory complex was used again in World War Two as the Royal Ordnance Factory Rotherwas, when both shells and bombs were manufactured.
The former munitions site is now the county's new enterprise zone for military technology and bids have been made for funding to turn the shell store into a museum to the men and women from Herefordshire who fought in the wars and Britain's first special forces museum. Herefordshire Lore, the county's reminiscence group, is campaigning for the former munitions workers to be remembered in a permanent memorial onsite.
Location: Rotherwas Munitions, Hereford HR2 6LD
Image shows canary girls, courtesy of Herefordshire Council
Narrated by local historians Bill Laws and Julie Orton-Davies
Duration:
Featured in...
Places around Hereford & Worcester that tell a story of World War One

How war transformed the status and role of women
More clips from World War One At Home