Main content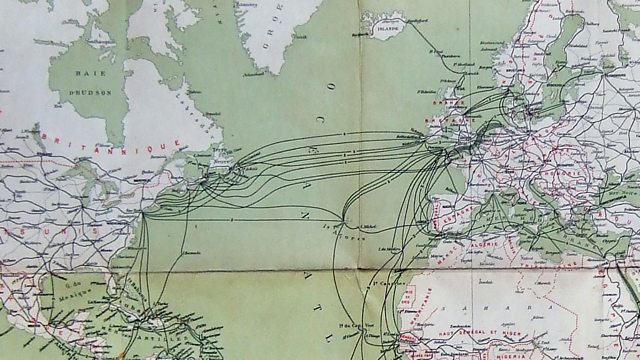 Porthcurno, Cornwall: Cable Wars
How superpowers used technology to gain the upper handby spying on each other
Porthcurno Telegraph station in far west Cornwall is described as the gateway to the British Empire and considered the largest telegraph station in the world in terms of the number of cables terminating on the beach and the number of telegrams that were transmitted and received every day.
On 5 August 1914, just a day after war was declared, Britain acted by cutting five of Germany's undersea telegraph cables, which fanned out into the Atlantic from the English Channel. A ship called the Telconia sailed out into the English Channel sunk its anchor and hauled up the five cables, cutting off North America, and many of Germany's more distant territories.
"Germany was instantly cut off from its major trading centres and the rest of the world. She was isolated from important and strategic military tools. It's a very important piece of very early British technological decision making."(Dr Richard Noakes, University of Exeter).
Cable ships carrying highly skilled workers travelled the world fixing and laying new cables during wartime. But the men themselves were at risk as targets for enemy submarines determined to stop Britain's powerful communication – the ships which laid the network and the men who had the specialist skills to keep them operating.
One of those workers was Alfred Izzard who worked for the Eastern Telegraph Company. Alfred trained at Porthcurno from 1911, and during World War One was working on the Cable Ship 'Electra' in the Mediterranean. The telegrapher's detailed diaries shed light on events, which at the time would have been censored because of security. Now the archivists at the Porthcurno Telegraph Museum have been discovering what Alfred and his fellow cable men faced:
"He was there travelling around when they were trying to repair cables that had been damaged or possibly cut by enemy action. He was also there helping to lay the cables, some of them were laid for military use. German submarines were everywhere" (Charlotte Dando, Porthcurno Telegraph Museum).
Alfred wrote about what life was like on a cable ship:
"November 5th, 1915 a very unpleasant incident has happened near Gibraltar which has made all aboard the Electra sit up a bit. Two British transports have been torpedoed less than three hours from here with it is feared heavy loss of life.
"The Cable War was very much at the front and centre of the government's worries about how are we going to deal this conflict ahead of us now? We have this global network of cables we're going to use them to our advantage and The British did" (Dr Richard Noakes).
On the idea of cutting information flow, historian Dr Richard Noakes from the University of Exeter says what is so resonant about the so called 'Cable Wars' this form of communication warfare is just as significant or even more so for tackling terrorism today.
Location: Porthcurno, St Levan, near Penzance TR19 6JX
Image shows a map of the global cable network in 1912, courtesy of Dr Richard Noakes, who also presents the story
Duration:
Featured in...
Places in Cornwall that tell a story of World War One

Wartime pioneers and innovation
More clips from World War One At Home