Main content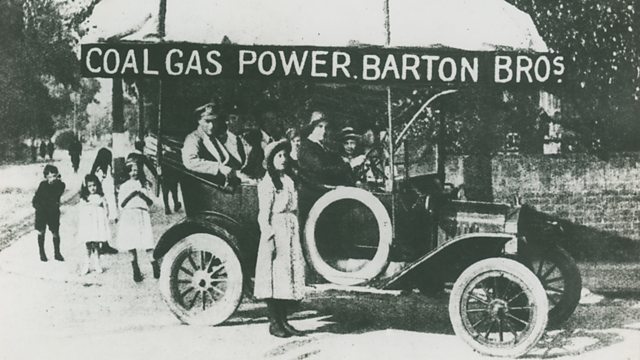 Chilwell, Nottinghamshire: Pioneering Gas Bags on Buses
The bus operator who invented 'gas bags' to keep his vehicles on the road
Petrol was in short supply during World War One prompting an entrepreneur from Nottinghamshire to look at alternative ways of powering his buses. TH Barton had the idea of using the town gas piped into bags, and attaching them to the roof of the bus. He patented the invention and once he persuaded the authorities in Nottingham that they were safe to use, he converted his whole fleet to run on the fuel.
The bags were made of rubber and canvas and either roped or strapped to the roof of the vehicle.
"It was stunningly simple," explained his great grandson and managing director of Barton PLC, Simon Barton: "The idea was that the bag would simply crush down, its weight forcing the gas down to the carburettor, of the petrol type-engine."
He also manufactured these bags as 'kits' for sale to other operators.
In a 1916 article of the Commercial Motor, the 'gas bag' was described as a pronounced success. It was also a cheap alternative to petrol and an idea that was revived and used by buses during World War Two.
Location: Barton House and Garage, High Street Chilwell, Nottinghamshire NG9 4AJ
Image shows a Barton vehicle with a coal gas bag on top, courtesy of Simon Barton
Presented by Celia Kellett
Duration:
Featured in...
Places around Nottingham that tell a story of World War One

Wartime pioneers and innovation
More clips from World War One At Home