Main content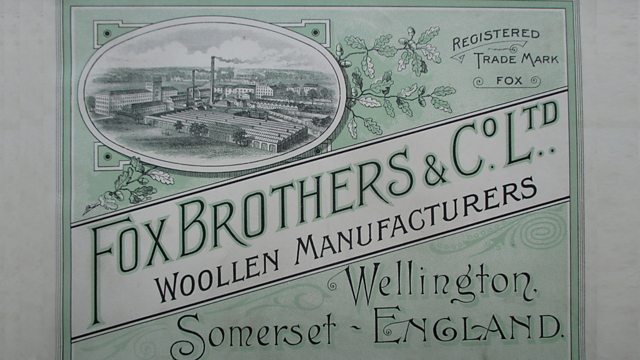 Tonedale Mill, Somerset: Manufacturing Miles of Puttees
How a Somerset town wove its way into military history
Not far from the River Tone sits a relic of Wellington's industrial past.
A heritage that saw Somerset cloth taken into the very heart of battle on the Western Front; Tonedale Mill was a wool factory which once covered an impressive seven acres with a collection of 19th Century redbrick buildings on the site of the town's old flour mill.
In this noisy, bustling environment Fox Brothers Limited produced puttees for British troops in World War One. These bandage-like strips of knitted wool would bind a soldier's leg from knee to ankle. Certainly uncomfortable but an essential piece of kit in the trenches where knee-high leather boots were rare and every step through the black, glutinous mud was treacherous.
From the late Victorian era until the middle of the 20th Century, the British military became an important customer to Fox Brothers. During WW1, more than 8,000 miles of cloth from Wellington was used by the British and Allied governments and puttees became a record breaker for the firm. The largest single order for textiles placed during the war was for 852 miles of cloth to make puttees. Using wool brought in from Watchet and Topsham, thousands of mainly local women worked on the deafening machinery before the finished products were shipped to the Front.
Today much of the original mill has fallen silent. Almost eerily so. Puttees have long since been needed and the fame they brought Wellington has faded. But for a few dozen local people it's still an important part of the town.
One hundred years on, they earn their living working in virtually identical surroundings. To the surprise of many, the firm continues to produce cloth in part of the original factory complex. Now it employs not thousands of staff but a handful. Nevertheless, this corner of Somerset can proudly boast a survivor of WW1.
Location: Fox Bros, Tonedale Mill, Wellington TA21 0BA
Image shows a Tonedale Mill advert, courtesy of Fox Brothers and Co.
Presented by Douglas Cordeaux, who is the owner of the company
Duration:
Credits
| Role | Contributor |
| --- | --- |
| Presenter | Douglas Cordeaux |
More clips from World War One At Home