Main content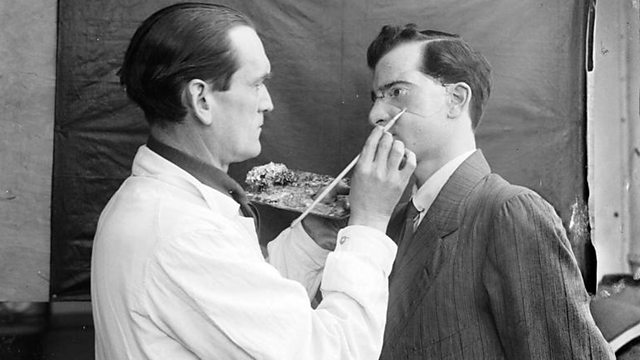 Wandsworth, London: Masks for Facial Disfigurement
The 'Tin Noses Shop' at London's Third General Hospital was run by sculptor Francis Wood
The 'Tin Noses Shop' at London's Third General Hospital was run by sculptor Francis Derwent Wood.
Whilst working as an orderly at the hospital in 1916, Wood devised an artistic solution to help soldiers returning from war with horrific facial injuries which could not be repaired by the surgeon's knife. It was nicknamed the 'Tin Noses Shop' by wounded soldiers, but its proper name was the 'Masks for Facial Disfigurement Department'.
Wood created a bespoke lightweight prosthetic metal mask with the exact profile of the patient's face. Onto this he painted as close as possible a depiction of the patient's original features, often using a pre-war likeness for reference.
Frequently, Wood completed a mask with the patient wearing it, so he could match the serviceman's skin tone. Details such as eyebrows, eyelashes and moustaches were not stuck on, but rather painstakingly painted on, with very fine brush strokes, to look as realistic as possible
Patients complained the masks were hot and itchy and many discarded them after only a short time. Even so, it gave men with the very worst facial disfigurements a way to re-enter society and to try to return to their old lives.
The 'Tin Noses shop' closed in 1919.
Location: Royal Victoria Patriotic School (The Third General Hospital during the war), Fitzhugh Grove, Trinity Road, Wandsworth, SW18 3SX
Image shows Francis Derwent Wood adding the finishing touches to a patient's new facial plate
Photograph courtesy of Imperial War Museums
Presented by Dr Suzannah Biernoff, History of Art, Birkbeck College
Music: Sospiri, Op 70 by Sir Edward Elgar, published by Naxos (Catalogue No: 8.552133-34)
Duration:
Credits
| Role | Contributor |
| --- | --- |
| Sospiri, Op 70 | Sir Edward Elgar |
Featured in...
The brains behind the breakthroughs

Places in London that tell a story of World War One
More clips from World War One At Home