Main content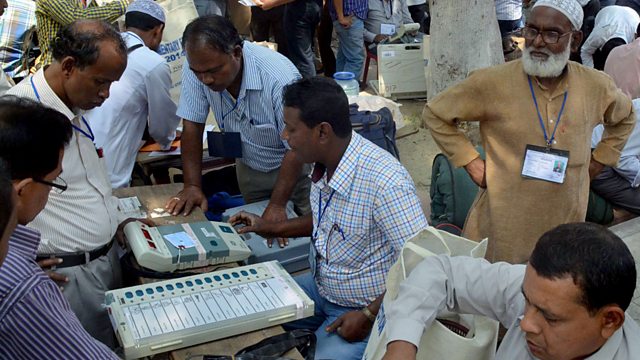 India's Electronic Voting
India's electronic voting machines court the undecided with a 'None of the Above' button; Fabricating 3D printers in Togo; Creative young digitals; Save the tiger online
India has long been a pioneer in using electronic voting machines in elections. As the latest general election gets underway, Click reviews the pros and cons, the robustness and the possibility for fraud in electronic voting machines. For the first time, voters will also have the option of pushing a "None Of The Above" button if none of the candidates on the ballot meets with their approval. Though electronic voting machines are now embedded in India's electoral system there is still, inevitably, the possibility of glitches. Are the machines as popular as they seem?
WoeLab 3D Printers
WoeLab is a community of young early adopters of technology in Lomé in Togo who claim to have built Africa's first 3D printer. As well as being home to tech enthusiasts, Lomé is also the location of huge amounts of e-waste. Sasha Gankin travels to Lomé to hear how the group at WoeLab has recycled e-waste to build 3D printers and a number of Jerrys – portable computers housed in jerry cans.
Creative Young Digitals
One of the key events of the London Book Fair has been the YCE Awards for young creative entrepreneurs who have innovatively used digital technologies. Beatrice Pembroke discusses how the entrepreneurs, far from being fearful of the breakdown of old economic models marginalised by recent technologies, are embracing the new opportunities that arise.
Tiger Nation
Wild tiger numbers in India have dropped dramatically in the last century to a level of just over three thousand. The tigers may be subject to the ravages of poaching and illicit trading but the Tiger Nation organisation believes it can harness the power of crowd sourcing to shine a light on their plight. Click is joined by Julian Matthews from Tiger Nation.
(Photo: Indian poll officials check electronic voting machines at a distribution centre in Nagaon ahead of Lok Sabha (lower house) elections © AFP/Getty Images)
Chapters
India's Electronic Voting

India's electronic voting machines court the undecided with a "None of the Above" button.

Duration: 06:14

WoeLab 3D Printers

Sasha Gankin reports on how e-waste is turned into a 3D printer in Togo.

Duration: 04:45

Creative Young Digitals

The London Book Fair celebrates the creative flair of young entrepreneurs.

Duration: 06:36

Tiger Nation

Julian Matthews discusses how crowdsourcing might save India's tigers.

Duration: 05:06