The Child Star Who Grew Up
Welsh singer-songwriter Charlotte Church became very famous at the age of 11 - when her phenomenal operatic soprano voice was first heard on British television shows.
Charlotte went on to appear alongside opera stars like Placido Domingo and performed for Pope John Paul ll, Queen Elizabeth ll, and American President Bill Clinton. But as she grew up, the press attention wasn't all positive. It put pressure on her relationship with her family - and caused her great distress. Charlotte switched to singing pop music in 2005 and two years later had sold a total of 10 million records worldwide. She has also had her own TV chat show and has won many awards. Now, aged 28, she tells Matthew about her new EP Four.
American Aaron 'Wheelz' Fotheringham has been a wheelchair user for most of his life. He talks about making a living for himself by performing daredevil stunts in his wheelchair, including dangerous back-flips.
Pati Ruiz is one of Latin America's most respected environmentalists, who has found a way to protect the Sierra Gorda Biosphere Reserve - one of Mexico's most diverse and protected natural areas. She explains how she has provided sustainable livelihoods for the communities who live there.
Kiran Khan is one of Pakistan's first international female swimmers, who will be competing in this summer's Commonwealth Games in Glasgow. She talks about the music that inspires her.
(Picture: Charlotte Church aged 13 (r) and as an adult (l). Credit: Leon Neal/ AFP/ Getty Images)
Last on
Aaron 'Wheelz' Fotheringham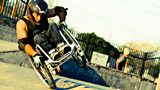 The American daredevil who defies gravity by performing stunts in his wheelchair - including dangerous back-flips. His stunts have cost him more than 30 wheelchairs and a number of teeth.
Amy Barnard Photography.