Main content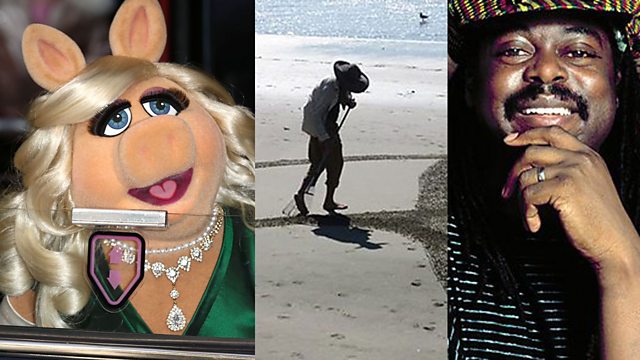 Miss Piggy
"I might retire after this movie" - Miss Piggy
The beaches of California provide "the canvas" for artist Andres Amador, who rakes giant patterns into the sand only for them to be washed away. We join him on the beach.
The Sydney Biennale has recently opened and we look at the work of indigenous artist Bindi Cole's and her "I Forgive You" videos. Arts reviewer Elizabeth Fortescue talks to ABC Radio National's Michael Cathcart on Books and Arts Daily.
Noah - the new film story of the biblical seventh generation descendent of Adam and Eve - is doing well in the US, we interview the director Darren Aronofsky.
How is reality TV shaping poetry in the Middle East? While Simon Cowell turns US and British television networks into a giant karaoke machine, in Abu Dhabi 'Millions' Poet', a massive competition will earn someone about 1.5 million US dollars and a tribute as the best poet in the Middle East.
Did you know that there was a swinging Addis Ababa, Ethiopia, in the 1960s and '70s just like there was a swinging London? British saxophonist Courtney Pine investigates.
Music critic Rita Ray has been in Ghana, she showcases some of the latest sounds and we interview Miss Piggy about her latest film, Muppets Most Wanted.
Photo shows: Miss Piggy (c) Tim P Whitby/Getty, Andres Amador, Courtney Pine
Music and featured items
Sand Art

The beaches of California provide the 'canvas' for artist Andres Amador

Duration: 07:55

Sydney Biennale

The beleaguered 19th Biennale of Sydney has finally launched

Duration: 04:21

Noah

New film story of the bibical seventh generation descendent of Adam and Eve

Duration: 06:45

Poetry Idol

Shahidha Bari goes in search of the biggest poetry competition in the Middle East

Duration: 03:57

Swinging Addis

Courtney Pine travels to Ethiopia to uncover one of world music's most remarkable stories

Duration: 08:08

Ghanian Music

Music critic Rita Ray showcases some of the latest sounds in Ghana

Duration: 12:09

Miss Piggy

The star is back in Muppets Most Wanted

Duration: 06:11