Main content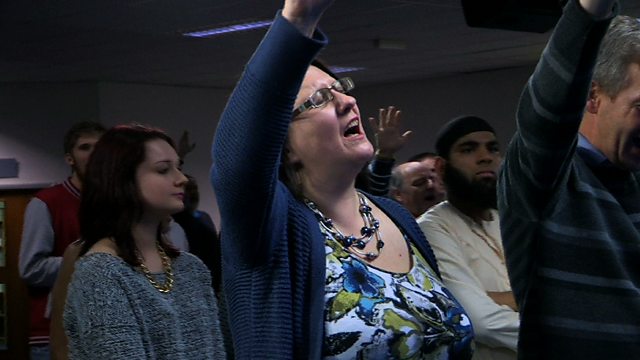 Is it possible to believe God is revealed by healing miracles?
An atheist, a Muslim and a Christian visit a Christian healing service in Hull and debate whether this kind of 'inspiring' evidence is a revelation of God.
A Charismatic Christian community in Hull runs healing services where praying for God to heal illness and pain is a regular event. Contemporary worship and prayer in Jesus' name come as a surprise to our young researchers, one of whom has never been to a church service before. The 'testimony' they hear from people who have been healed raises as many questions as it does answers. While it seems good to them all to see people recover from painful illnesses, the answers they get to questions they put to the Pastor of the Church aren't completely satisfying.
Back in a studio discussion involving Angellica Bell and all twelve of the group involved across the films, Sarah, a Pentecostal Christian, thinks that these healings are real evidence revealing God at work. Muslim young people say that there is a difference between inspiration (a feeling of the presence of God/Allah) and the revelation of the Koran to the Prophet – a revelation of universal importance. Some Christians find the healing service too emotional. Atheists may think it is manipulative, but the group are also alert to the mysterious and unexplained fact that people who were ill are better, not by medicine but apparently by prayer. The film finishes by asking if this is the work of God or can be explained some other way.
Duration:
More clips from A Question of Faith