Main content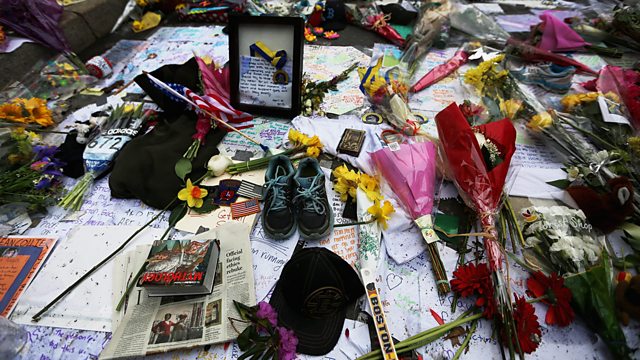 Motivations and Murder
Could solving a triple murder case have prevented last year's Boston Marathon bombings?
New evidence implicates one of the alleged Boston Marathon bombers in a triple homicide in 2011. A reporter investigating the murders thinks the marathon bombings might have been prevented if police had pursued the murder investigation more thoroughly. Also in the program, what motivates a Mexican drug smuggler? We also hear about the globe-trotting American basketball players in Libya, and learn why French is making a comeback in one US state bordering Canada. Plus, Iranian-American comedian K-von Moezzi, tells us how he learned about being Persian when he started doing stand-up.
(Photo: A pair of running shoes and flowers at a makeshift memorial for victims of the Boston Marathon bombing April 15 2013. Credit: Mario Tama/Getty Images)
Last on
Chapters
Boston Marathon Bombing

How solving a triple-murder might have prevented the Boston Marathon bombings

Duration: 04:35

Drug Mule

A Mexican woman still fears deportation after helping the US bust drug traffickers

Duration: 04:45

International Space Station

Conversation tips for Russians and Americans aboard the International Space Station

Duration: 03:40

French in Maine

What is prompting so many people to speak French in this state bordering Canada?

Duration: 04:05

Basketball in Libya

The experiences of two globe-trotting American basketball players in Libya

Duration: 04:35

K-Von Moezzi

The Iranian-American comedian who learned about being Persian through doing stand up

Duration: 04:00

Broadcasts

Podcast

How the world looks through American eyes, and the myriad and unexpected ways that the world influences the United States.