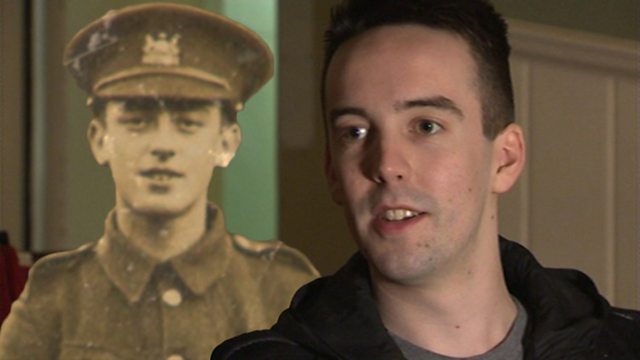 Bentley Place, Wrexham: 13 Year Old World War One Soldier
A young amateur actor discovered a remarkable story about his great grandfather who joined the Army at just 13 years old to fight in World War One.
Alastair Goodman, 26, of Bentley Place in Wrexham, only found out about his relation's heroics when he signed up to appear in a play in Llangollen, Denbighshire to mark the centenary year of the start of the First World War, where he plays Ralph, a young soldier who volunteers for war.
When asked by the play's director to find inspiration for his role, the former Dinas Bran pupil delved into his family history and found that his great grandfather, Edward Barnett, had enlisted in the Army when he was just 13 years-old. "I spoke to my nan and she said her dad had fought in the First World War but faked his age." I figured he must have been 17 because I'd heard of people faking their ages to get in before.
Edward Barnett, of Salford, first volunteered in May 1915 but was taken out within a week after the regiment discovered his real age. He re-enlisted the next day.
Edward continued to evade the age checks and was sent to France to join the 20th Manchester Regiment in December 1915 at the age of 13. he lasted four months, seeing action in Loos, St Eloi, and Albert, before his age was discovered and he was sent home and discharged.
It's believed that Edward Barnett is the second youngest soldier to ever serve in World War One.
Location: Bentley Place, Wrexham, LL13
Image: 13 year old WW1 Soldier Edward Barnett in 1915 and his great grandson Alastair Goodman 2014
Featured in...
Clips from programmes, WW1 footage & slideshows

Places in Wales that tell a story of World War One

Memory

—

World War One At Home

Memorials and the commemoration of wartime lives