Main content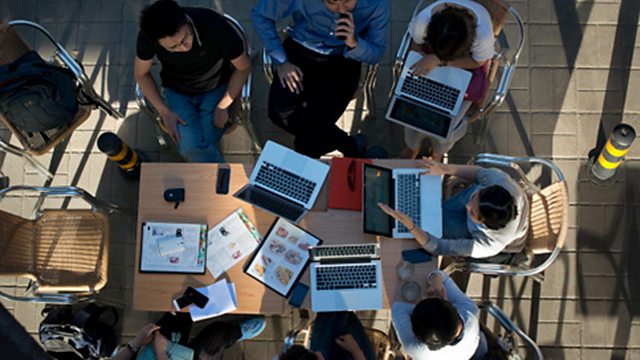 Danah Boyd: It's Complicated
Danah Boyd argues that the way teenagers are using social media is nothing to worry about; International money transfer through mobile phones; Uploading Getty images for free
Parents the world over worry about their children's use of and access to technology, but do they need to be concerned? Danah Boyd, a principal researcher at Microsoft Research, argues that ultimately the tools of social media will not replace the primacy of direct human contact. Teenagers may appear to be hanging out on Instagram or WhatsApp rather than on street corners. But, as Boyd writes in the book It's Complicated, young people's interactions with each other are not that different from the generation that preceded them. Boyd joins Click to share her research.
International Mobile Money Transfer
The banking penetration in countries like Rwanda is very low. For large swathes of the population banking is not feasible because it takes too long to get to branches. In recent years people have used their mobile phones to send money home. Money transfer through your mobile phone is not new. But what is new suggests the mobile company Millicom, is international money transfer across borders using your mobile phone. The company has launched what it says is a world first - a facility which offers mobile phone money transfer between Rwanda and Tanzania. Colin Grant speaks to Gerhard Romen from Millicom's mobile services team about how the system works
Getty Images: Free Service
Sharing copyrighted photos on your website or blog has potentially become a little bit easier with the latest development by Getty Images. A new free service allows people to source images from Getty's archive and to share them on their own sites. Is this a simple altruistic move by Getty, a new business model, or is there a catch for the consumer? Click hears from Getty's Jonathan Klein and investigates the benefits and the potential privacy issues that may arise.
(Photo: People sit around computers at a café © AFP/Getty Images)
Chapters
Danah Boyd: It's Complicated

Danah Boyd argues that teenage use of social media is nothing to worry about.

Duration: 08:12

International Mobile Money Transfer

Colin Grant reports on a new scheme of international money transfer through mobile phones.

Duration: 04:00

Getty Images: Free Service

Is there a catch in being able to upload selected Getty images for free?

Duration: 04:43