Main content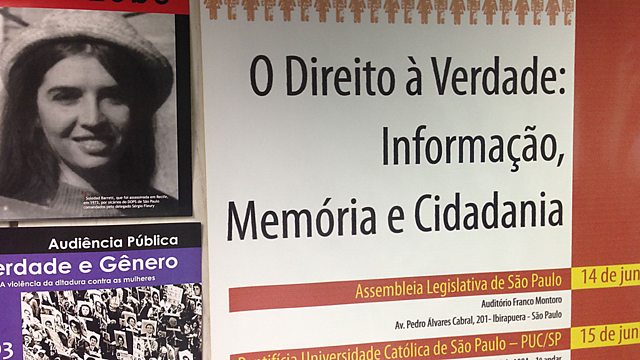 Brazil: Confronting the Past
Fifty years after the coup, Brazil has started to deal with the legacy of the military dictatorship. But why are some people still afraid?
Fifty years after Brazil's coup and the ensuing military dictatorship, the country is dealing with the legacy of that past, as singer and reporter Monica Vasconcelos reports. She returns to her native country in a journey prompted by the novel 'K' by Brazilian writer Bernardo Kucinski. The book is about the disappearance of his late sister who was tortured and killed by the dictatorship. And what about Monica's own family's past? For the first time, she now asks her father questions about the years of repression. But why is he still afraid, even now?
Monica also meets some of the people who are now tackling the legacy of the dictatorship. People like the psychoanalyst who runs therapy sessions for victims of torture, the head of the Sao Paulo Truth Commission, a member of a group of activists who expose former agents of the repression - by telling their neighbours about their past.
Thanks to an amnesty law from 1979, no one has gone to prison for the human rights abuses committed during the dark years. And not everyone thinks the dictatorship was wrong. Monica meets a Brigadier General who defends the coup as a legitimate way to stop Communism during the Cold War. Killings and torture were necessary methods to 'eliminate the enemy' and win this war, he says.
The book 'K' by Bernardo Kucinski is published in English by the Latin America Bureau, translated by Sue Branford.
The song 'Aparecida', composed by Ivan Lins with lyrics by Mauricio Tapajos, is performed by Monica Vasconcelos. Guitar by Swami Jr. Translation of the lyrics by David Treece (King's College London).
Other music by Heitor Villa-Lobos, performed by pianist Clelia Iruzun.
(Image: Campaigning posters in the office of the Truth Commission in Sao Paulo. BBC copyright)
Last on
Broadcasts