Main content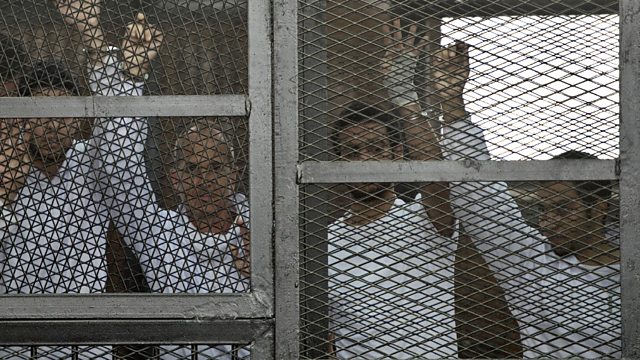 Bearing Witness on the Middle East
Quentin Sommerville in court as al-Jazeera journalists go on trial in Cairo; James Rodgers explores war graves near Jerusalem, from a conflict which still shapes the Middle East.
Three al-Jazeera journalists have gone on trial in Cairo. They stand accused of supporting former President Morsi's Muslim Brotherhood, now regarded as a terrorist organisation by the State. Quentin Sommerville was there, and as the Army-led regime gears up for elections in the coming months, he has his doubts over its ability to administer justice.
Near Jerusalem, James Rodgers has been researching the area's war graves. As the world gears up to commemorate World War One in Europe, he argues that perhaps we would do better to cast our minds eastwards, and consider how that conflict continues to shape the Middle East.
(Photo: Australian journalist Peter Greste (second left) of al-Jazeera and his colleagues stand inside the defendants cage during their trial for allegedly supporting the Muslim Brotherhood at Cairo's Tora prison, March, 2014. Credit: Khaled Desouki/AFP/Getty Images)