Main content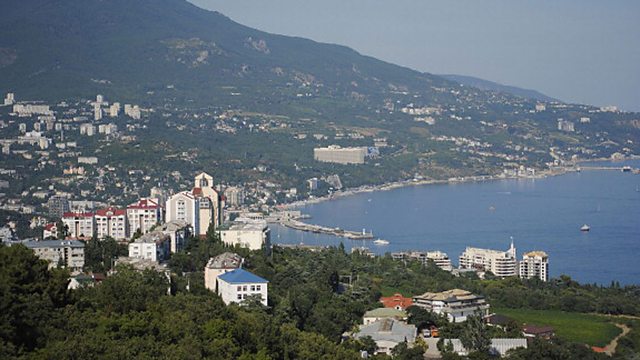 Crimea - A User's Guide
Embedded in the Central African Republic, Farewell DC10, Sounds of the Sufi, Crimea guide, Karachi You're Killing Me!, Lupita Nyongo.
The drama in Ukraine continues, but if last week all eyes were on Maidan Square, this week attention has shifted to Crimea, the autonomous peninsula to the south of Ukraine that is home to ethnic Russians, ethnic Ukrainians, Crimean Tartars and the Russian Black Sea Fleet. Yevgeny Kanevsky from the BBC Russian Service knows the place well and tells us what you need to know to understand Crimea.
Farewell DC10
BBC Bengali's Shahnaz Parveen has taken the last ever DC10 international passenger flight, travelling from Dhaka to Birmingham. She wondered if she would survive a long haul flight on an aircraft that's older than her, but she did. Even though there was no in-flight entertainment the party atmosphere in the cabin and the stories of the crew who have devoted their lives to the DC10 helped the hours fly by.
Karachi You're Killing Me!
Ayesha Khan is a young, single journalist dodging bombs and bullets, avoiding lost lion cubs, and attending Pakistan's Fashion Week - all on a diet of beer, cigarettes and chili chips. She's the narrator of journalist Saba Imtiaz's first novel, Karachi,You're Killing Me! which has just been published. Saba Imtiaz and Mohammed Hanif of BBC Urdu and an acclaimed novelist, join The Fifth Floor to talk about the perils, pleasures and occasional laugh-out-loud moments of being a journalist in Karachi.
Fifi
Fifi Haroon gives the low down on the top-hitting stories across the Language Service websites, including Chinese cats living like kings and the pitfalls of proposing in public.
Embedded in the Central African Republic
'A convoy of terror' that's how BBC Swahili's Kassim Kayira described his latest assignment when he was embedded with AU peacekeepers who were trying to provide a safe passage to hundreds of Muslims trying to escape Christian militia attacks. Kassim reads a few pages from his diary from the trip and tells David what it was like to be embedded.
Sufi Sounds
BBC Uzbek journalist Rustam Qobil travelled recently to northern Afghanistan where he found a renaissance in the mysterious Sufi school of Islam. As part of his journey he encountered chanting and singing worshippers, eyes closed, lost in their hypnotic prayer. Rustam talks us through some of the unique sounds of the Sufi.
Lupita at the Oscars
It's Oscars weekend and it's causing a frenzy of activity in Kenya. This is the first time a Kenyan has been nominated. Lupita Nyong'o is up for Best Supporting Actress for her role in 12 Years a Slave, but as Frenny Jowi from our Nairobi bureau reports it hardly matters whether she wins or loses because the Lupita effect has firmly taken hold already.
Picture: Crimea, Credit: Prisma/UIG via Getty Images