Main content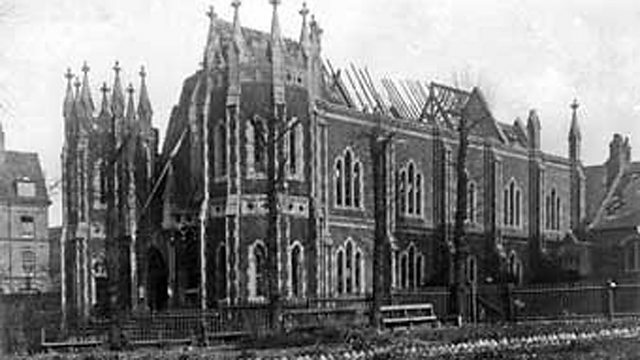 Wednesbury Road, Walsall: Target for Zeppelins
Zeppelin bombardment that devastated Walsall
It's now a homeless day centre and government offices, but in 1916 this was a target of German Zeppelin air raids that left many dead or injured.
On the night of 31 January 1916, nine airships left German bases to carry out raids. It was thought that the target was Liverpool and that the airship crews got lost.
Two ended up over Walsall and dropped bombs on various locations in the town. The Congregational Church on Wednesbury Road was hit and severely damaged. Sadly, a local man, Thomas Merrylees, had taken an impromptu walk into the town centre and was killed outside the church on the corner of Glebe Street and Wednesbury Road. His wife is believed to have been pregnant at the time and given birth to a son some months later. His death is said to have left the family without money and destitute for a time, having to seek funds from the government.
The church was rebuilt and worshippers returned after the war.
In the 1970s the church was knocked down and replaced by the current Glebe Centre for homeless people and offices for the Department for Work and Pensions. However, the current owners ensured that a part of the church remains. Inside the building is a small room for worship used on a monthly basis, which contains one of the original stained glass windows of the church.
Location: Wednesbury Road, Walsall, West Midlands WS1 3RU
Image of Wednesbury Road Congregational Church just after the 1916 bombing
Photograph courtesy of Paul Ford, Walsall Local History Centre
Duration:
Featured in...
Zeppelin raids brought terror & destruction across the country.

Places in the West Midlands that tell a story of World War One

Zeppelin raids and aviation heroics
More clips from World War One At Home