Main content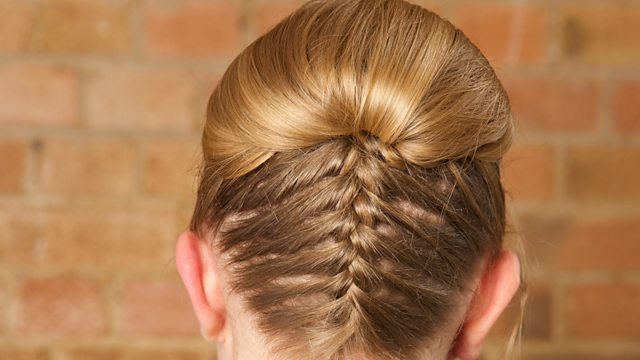 Hair: Katy's Upside Down Plait Tutorial
Hair contestant Katy gives her take on an upside down plait and bun.
Hair contestant Katy gives her take on an upside down plait and bun.
You'll need:
Hairspray
Backcombing Brush
Pin Tail Comb
Paddle Brush
Hair bands
Hair Grips and Pins
Steps:
Bring your head to your knees and brush the hair all the way through, adding a little spray for hold and manageability.
Start the braid at the nape of the neck with a small section of hair. Divide into three equal sections.
Begin as if it were a normal plait, crossing sections over each other. As you cross over each section, add some hair from the side.
Continue up the head, adding in more hair each time you plait. When you reach the crown of the head, continue plaiting a little further. Then secure with a hair bobble at the very end of the braid, as tight as you can. Spray the hair for a neat finish.
Sit back up and using a paddle brush, bring the rest of the hair into a ponytail. Use a bobble to secure as tightly as possible. Remove the bobble from the braid if required.
Backcomb the ponytail a little to give it some grip. Flip the ponytail forwards so it's lying flat on top of the head, and pin it into place near the base of the ponytail.
Backcomb the ends of the ponytail a little bit more and roll the remaining hair backwards into a smooth roll shape, over the pins and bobble, before securing underneath with grips.
Smooth the roll with a backcombing brush and finish with spray.
Duration: