Main content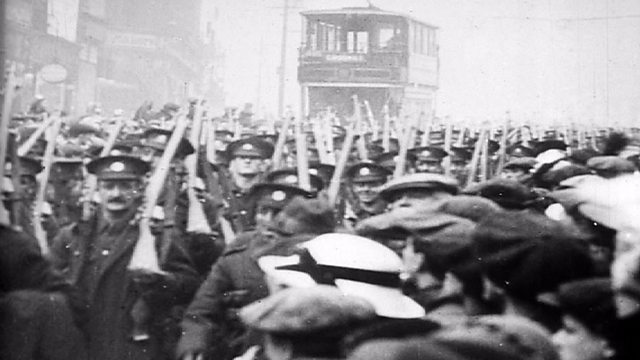 Fitzalan Square, Sheffield: Troops Parading Through the Streets
Fitzalan Square in the centre of Sheffield is now an unloved and largely forgotten public space, with major events in the city usually happening at Barkers Pool.
In 1914, it was a very different story. It was the place to be when the 1365 Hallamshire Rifles marched through the city of Sheffield on their way to the front. Fitzalan Square was the setting for a film of them passing through to jubilant scenes from the gathered crowds.
The square overlooked by a statue of King Edward VII was once home to a cinema and it is likely that this was where the film would have been shown. The images show smiling troops and waving onlookers, nobody at that time had any idea what they would soon be facing overseas. Many of those happy and cheerful faces would never return home.
Location: Fitzalan Square, Sheffield, Yorkshire S1 2AZ
Image shows soldiers marching through Fitzalan Square
Photograph courtesy of Imperial War Museums
Presented by BBC Reporter, Kate Linderholm
Duration:
Featured in...
Clips from programmes, WW1 footage & slideshows

Places around Sheffield that tell a story of World War One
More clips from World War One At Home