Main content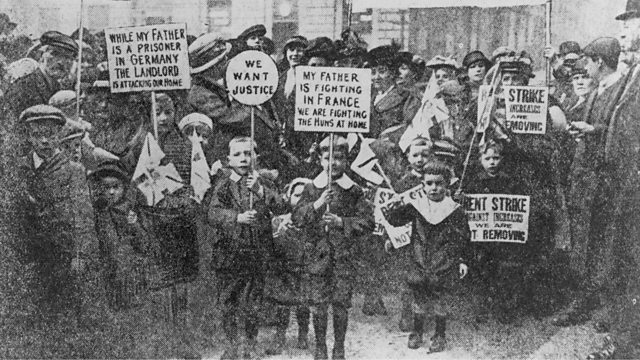 Glasgow, Scotland: Mary Barbour and the Glasgow Rent Strikes
As men fought at the front, Mary Barbour led the fight against rent rises at home.
Mary Barbour and the Glasgow Rent Strikes (Glasgow Old Sheriff Court Building ) G1 1TF
On the 17th of November 1915, thousands of women along with engineering and shipyard workers descended on Glasgow Sheriff Court and the City Chambers. They were there to protest the fate of eighteen Glasgow tenants who had been taken to court for non-payment of rent.
The demonstration was the culmination of months of protest led by a Govan based woman called Mary Barbour. She was fiercely opposed to the rent increases that had been imposed by Glasgow landlords - in some cases up 23% on pre-war levels.
Mary Barbour had a talent for organisation and set up tenants committees and also co-ordinated eviction resistance. Women were posted as sentries to watch out for Sheriff's officers who had come to evict families who had fallen into rent arrears. Mary Barbour's "army" would be summoned with a bell or Mary's famous football rattle. The women would form a scrum to prevent officers gaining entry to houses and often pelted them with flour or rotting food.
With time, the resistance to rent increases grew more militant, and by November 1915, some twenty thousand tenants were on rent strike.
As a result of the November 1915 demonstration, David Lloyd George, then munitions minister, was called. He instructed Glasgow Sheriff Court to release the tenants and that he would take action. Less than a month later Parliament passed into law the Rent Restrictions Act, setting rents for the remainder of the war at pre-war levels. Mary Barbour's army had won.
Image Credit: Glasgow Museums
Duration:
Featured in...
People who changed the world around them

Places in Scotland that tell a story of World War One

How war transformed the status and role of women
More clips from World War One At Home