Main content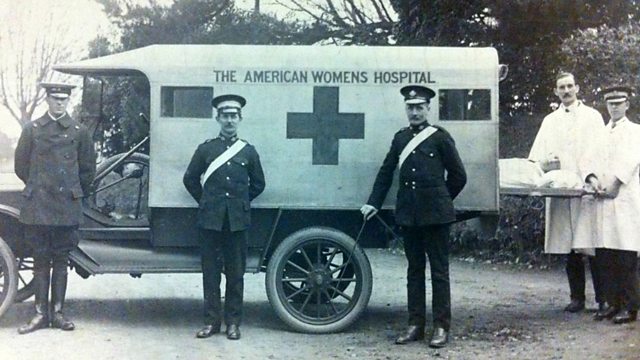 Paignton, Devon: The Singer Palace Becomes a Hospital
The Singer mansion that became an opulent war hospital
In the spring of 1914, Oldway was the Paignton home of the Singer family. Sales of sewing machines had funded the creation of a mansion modelled on the palace of Versailles. By the early autumn it had been converted into one of the most opulent hospitals of the war.
The American Women's War Hospital was housed in a marbled mansion with mirrored corridors reflecting sculptures, paintings and Singer wealth. Its sweeping staircase became the entrance to an operating theatre, its grand ballroom and domed riding school wards of beds, and its ambulances were made by Rolls Royce. Over the course of the war, more than 5,000 men were treated at Oldway.
Paris Singer paid £5,000 to convert his family home into a hospital. Wealthy American women living in Britain also agreed to fund its work through the American Women's War Relief Committee. Nancy Astor (the first woman to take her seat in Parliament), Lady Paget and Lady Churchill were among those raising money to pay for the hospital's ambulances, operating equipment and beds. Oldway's wards were subsequently named after them.
The first wounded arrived on 27 September 1914. They were men of the British Expeditionary Force and included soldiers of the 3rd Devons, the Welsh Fusiliers and the Irish Guards.
The American Red Cross recorded their patients and reported that of the first 1,000; the majority were admitted with wounds from shells, shrapnel and grenades with 520 described as suffering from injuries including abrasions, burns, dislocations or contusions. They also noted 179 operations carried out under general anaesthetic, and an average stay of 23 days.
When America entered the war in 1917, Oldway soon became American Military Hospital no.21 caring for American casualties only. By the last month of the war, 100 of them had died from flu-related complications. They were initially buried in Paignton.
Location: Paignton, Oldway, Devon TQ3 2TE
Image shows one of the hospital's ambulances that were made by Rolls Royce
Photograph courtesy of Torbay Library Services
Presented by Jo Loosemoore
Duration:
Featured in...
Places in Devon that tell a story of World War One

Hospitals, medical pioneers and the nursing contribution
More clips from World War One At Home