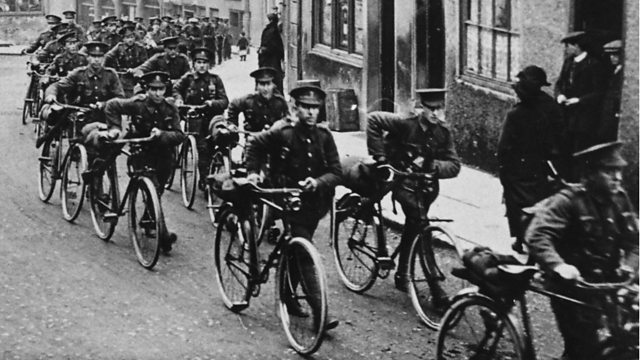 Steele's Cycle Shop, Omagh: The 36th Gets On Its Bike
A bicycle shop on the High Street in Omagh saw a new kind of soldier in 1915.
In the early months of the war the 36th (Ulster) Division called for men to join a new Cyclist Company.
The first recruits pedalled from Belfast to Enniskillen in a bid to boost numbers and passed through Omagh en route, where dozens of men joined up.
Just before the troops left for the front, officers placed an urgent order for 50 bicycles fitted with rifle straps from Sam Steele's shop in High Street.
The Cyclist Company was a small but important unit. Its 200 soldiers provided reconnaissance at the front and set up the Ulster Division's first observation posts near the trenches.
Some of the recruits came from the ranks of the Ulster Volunteers, whose members were arming to oppose 'Home Rule' - the establishment of a devolved Irish parliament in Dublin.
Many hundreds of Ulster Volunteers had trained at Baronscourt Estate in County Tyrone. In the run up to the war Baronscourt's owner, the Earl of Abercorn, hosted further training camps. This time for raw army recruits - and their bicycles.
Dr Timothy Bowman of the University of Kent and the Arts & Humanities Research Council, and Dr Haldane Mitchell from Omagh have studied the history of the Cyclist Company.
Location: High Street, Omagh, BT78 1BA
Image of members of the 36th (Ulster) Division's Cyclist Company travelling through Omagh during their recruitment tour in 1915
Photograph courtsey of Dr Haldane Mitchell
Featured in...
How the army prepared the nation for conflict

Places in the UK and Ireland that tell a story of World War One